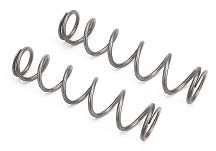 These new H5 alloy springs give you the strength and performance of titanium with the advantage of a fraction of the cost. They have 30,000 to 40,000 psi higher tensile strength than standard chrome silicon wire springs.
Plus, they give up to a 35 percent weight savings over chrome silicon wire suspension springs. Speedwerx tested these springs for two years in grass drags, snocross and crosscountry racing. Springs are for most sleds, ATVs and UTVs and retail for $40-60.
Contact Speedwerx (651) 982-6020 or www.speedwerx.com.