There don't appear to be many parallels between snowmobiling and professional football.
But it didn't take Baltimore Ravens starting nose tackle Haloti Ngata long to draw at least one parallel between the two seemingly opposite sports.
"In both, you're just throwing around a heavy object."
This coming from a 6-foot-4, 345-pound behemoth who knows a thing or two about heavy objects.
Now playing in his fourth year in the National Football League—all with the Ravens—Ngata has earned the distinction of being one of the best defensive linemen in the league. And he just happens to also be an avid snowmobiler.
We got the chance to sled with Ngata last winter in the mountains east of Heber City, UT, and while we don't usually do personality features in SnoWest, we couldn't pass this chance up.
Who wouldn't want to see how a 6-4, 345-pound person rides? And on the rare (or not so rare) occasion of getting stuck, you have one of the strongest men in the NFL to pull you out. Bonus.
While he's a veteran professional football player these days—he's a four-year starter with Baltimore—Ngata is somewhat of a rookie when it comes to snowmobiling, although he has long loved snow. Last winter was just his second full season of riding. He's ridden the past three or four seasons but only a time or two.
One of his former high school coaches and now mentor and close friend, Larry Wilson, introduced Ngata to snowmobiling.
Can I Go?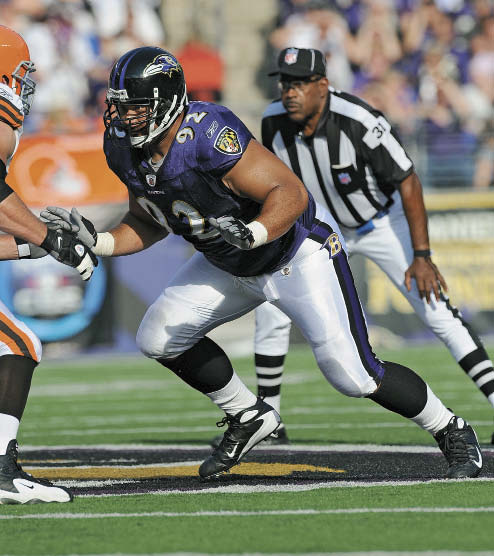 Ngata explained that Wilson was telling him about some of the Wilson's family sledding trips and "I said I would like to go with him."
We asked Wilson to describe that first ride. "Ha. It was a mixture of pure determination, competitiveness and a wide-eyed kid at Christmas," Wilson said. "He was obsessed with learning how to ride off-trail within his first weekend. He kept pushing my son and me to show him and explain to him how to carve, how to sidehill, how to jump and drop, how to climb and how to boondock.
"He did all of that his first weekend (a three-day one). He was sweating more than I ever saw him sweat when working out for the NFL. Ten hours a day, each day, until he could do the different things to some degree. It finally clicked for him when he learned that the throttle was his friend and quit trying to use his brute strength."
Who would blame Ngata for trying to replicate on the snow—at least to some degree—what he's learned from football: manhandle the thing.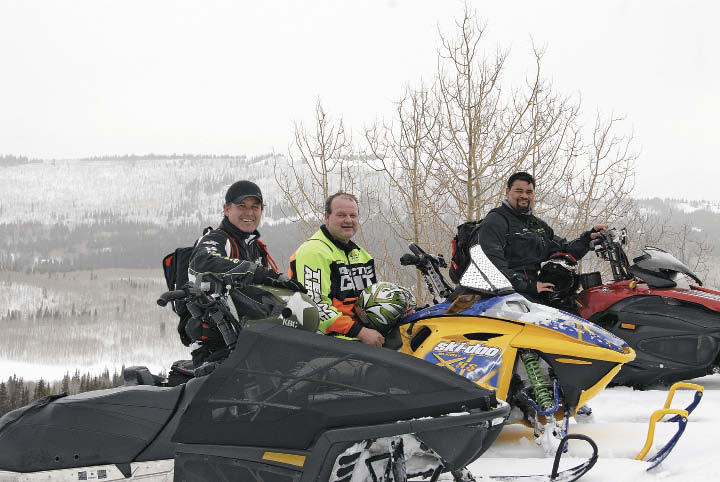 As we rode with and watched Ngata snowmobile last March in Utah, he is still eager to learn and asked our little group of riders (which included Powerhouse Motorsports' Dustin Sweeten and Matt Hasara) how to negotiate this or do that.
For Ngata, it basically comes down to being able to shift his massive frame from one side of the sled to the other— on the fly. We'd fly up a little hill without thinking much of it. Ngata had to work at it a little more than we did.
In the snowmobile industry, we talk about shifting your weight while riding. Imagine doing so with a 6-4, 345-pound frame. As nimble as Ngata is on the field—if you don't believe us, watch him play this season—he's No. 92—it's work to jump from side to side on the sled as conditions change. Sometimes it looked like Ngata was in slow motion but he still managed to negotiate the hillside or thick trees. If he had troubles in a certain spot, he worked at it until he could get up and over the hill or through the deep snow.
Determined
After watching Ngata ride for a day, there's no doubt the 25-year-old is determined and really works hard to master something, in this case, negotiating hillsides and boondocking.
Not surprisingly, those traits are echoed by Clarence Brooks, Ngata's defensive line coach with the Ravens. Brooks explained, "Haloti is a big reason we've had success on defense the past couple years. He's another link in that tradition here. He's a guy who can dominate on the football field with his brute strength and amazing quickness. Some of the things he does athletically freak you out. That's God-given. But that's not the only thing that carries him. He works at it."
Back to snowmobiling with Wilson and his family. Wilson said, "He picked things up quicker than any newbie that I ever rode with, mostly due to sheer determination. The excitement and pride that he had when he did something for the first time was something to witness. Once he learned something, he was bound and determined to master it, just like football and rugby. He has been riding for only three or four years and usually just a time or two each season so his progress has been amazing."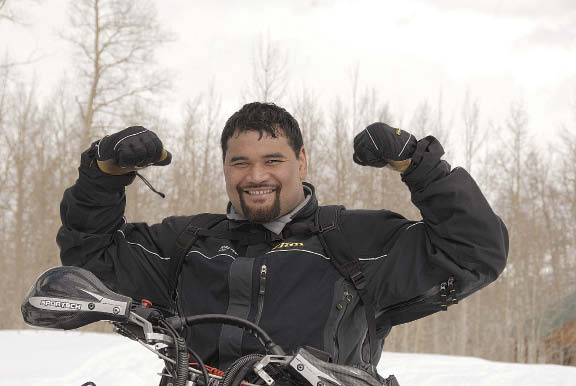 How else could you describe Ngata's rise to starting defensive lineman for an NFL team—right out of college? In fact, right after his junior year in college. Recruited by several major universities, including Washington, Nebraska, Texas A&M and BYU, Haloti settled on the University of Oregon, because, "I was comfortable with the players; they had a nice school with great facilities."
He quickly earned a starting spot for the Ducks before suffering a knee injury and having to rehabilitate back into a starting role. Playing in the tough PAC-10, Ngata continued to grow (literally and figuratively) into one of the country's top defensive linemen. "I knew if I kept working hard, I could make it in the NFL," Ngata said. "During my sophomore year, I was making good plays and was more mature and it's then I knew I could make it to the NFL."
Backing It Up
If you think Ngata is just puffing out his chest, then check out his college numbers. He was a consensus All-American first-team selection as a junior at Oregon, the first for the Ducks since DB Mel Renfro was chosen in 1962. He had 151 tackles (83 solo), 24.5 tackles for losses, 10 sacks (minus- 64 yards), seven pass deflections, three forced fumbles and one fumble recovery in his 36 games for Oregon. He also holds the school record with seven blocked kicks (3 FGAs, 3 PATs and 1 punt).
He left after his junior year at Oregon to enter the NFL draft where he was the No. 12 pick in the first round in 2006. He was drafted by Baltimore where he earned a starting spot his rookie season and has been wreaking havoc on opposing offenses ever since.
So why leave Oregon after his junior year? "Mostly because my mom was in the hospital and I wanted to help with the bills," Ngata explained, "Plus, I was not going to get any better in college."
Ngata's mother passed away the year Ngata was drafted into the NFL. His father passed away during his freshman year at Oregon. His parents immigrated from Tonga to California, where Ngata was born. The family later moved to Utah when Ngata was eight years old.
Having left Oregon before he graduated meant not taking a college degree with him. So Ngata is working to get a degree in Sociology and is going to the University of Utah during the NFL's off-season. He should graduate later this year after the winter term. Finishing college in Utah seems logical since that's where he lives with his wife Christina in the off-season. The Ngatas had their first child this past summer.
Oh, and Utah has plenty of snow for Ngata to continue to hone his snowmobiling skills.
"After my first ride, I was addicted," Ngata recalled. "I kept wanting to ride. I fell in love with it."
Warming Up To Snowmobiling
Part of the reason he likes snowmobiling so much, he said, is because he was never able to snowboard or ski when he was younger, even though he lived in the shadows of Utah's Wasatch Range.
Now he has the time—and money—to enjoy snowmobiling. "Being able to glide over the snow fast, it's so cool," Ngata said. "It's crazy how you can glide over the snow so easily. I love being out on the snow, plus when you fall off, it's soft."
As Ngata gains more experience snowmobiling, the territory he can cover expands. He said, "It's so fun to power through things. You can get up to places you don't think you can get up to."
Of course, how much Ngata is able to get out and ride each winter depends on how well the Ravens are doing on the field. Last winter's riding season was a little shorter for him because Baltimore made it to the AFC championship game where the Ravens lost to Pittsburgh 23-14. That meant he didn't start riding until February, but he said that was okay because the playoffs run was pretty fun.
After the loss, though, it was off to Utah and back on his Yamaha Apex, complete with an Impulse Turbo and 8-inch riser block (of course). Other than that, though, the sled is stock. For next season, Powerhouse Motorsports' Hasara will be redoing the rear suspension to add a 174-inch track as well as lightening up the front end.
Those will be just a couple more tools in Ngata's arsenal as he tackles the steep and deep in the mountains of Utah and Idaho.
Quick Hits With Haloti Ngata
Never been to a National Football League game until he played in one.
Favorite NFL stadium to play in (other than Baltimore's) – Pittsburgh. "When we beat them in Pittsburgh that's great. Houston has a great stadium. The field is great. The grass is short—not too long."
Stadium Ngata doesn't like to play in – Pittsburgh. "Honestly their grass is long. You slip a lot."
After the NFL? Teach school and coach football.
Was inducted into the Highland (Utah) High School Hall of Fame the night before we went riding last March.
Football or rugby (he plays both)? "Rugby because I'm a big guy and I get to run with the ball."
Has played the same position in football since he was 8 years old.
Full name: Etuini Haloti Ngata (pronounced ha-LOW-tee Na-ta).