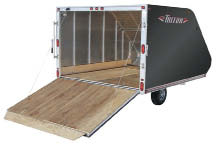 There's nothing like having a nice big enclosed snowmobile trailer when it comes time to round up the roadies and hit your favorite trailhead. But then again, there's nothing like having a nice, small, enclosed trailer when you're hauling just a couple of sleds around.
At SnoWest, we have several different trailers which we use quite frequently. We have the big trailers for four sleds … and we have the small trailers for two sleds. What we find is that the small trailers are used about three times as often as the large ones since they're easier to pull, cheaper on gas and more manageable.
Two of the more popular trailers we have are Tritons—The TC11 and the 2KF.
The TC11 is an aluminum enclosed trailer designed for two snowmobiles which features a drop-down rear door for easy loading. It has a rounded front for aerodynamic pulling and an 11-foot deck for hauling long-track snowmobiles.
A heavy-duty A-frame tongue and torsion axles makes it an easy pull.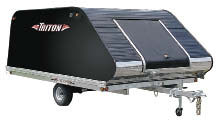 The 2KF looks very similar to the TC11, except for a little lower profile. Also built with aluminum, this model features a clam shell type coverall that allows the shell to lift up for loading and unloading.
Both styles feature an oversized four-foot front door for easy access.
Both are lightweight and can easily be moved around the parking lot by hand, even when loaded if properly balanced. We added front stand wheels for convenience.
Although both have ski-mount bars to secure the sled during transit, we found that if you don't strap your sleds down in a four-placed enclosed, you probably won't strap your sleds down in these trailers.
We also added Slide Guides to make loading and unloading a lot easier and less abrasive to the ramp and floor.
For more information, visit www.tritontrailers.com.