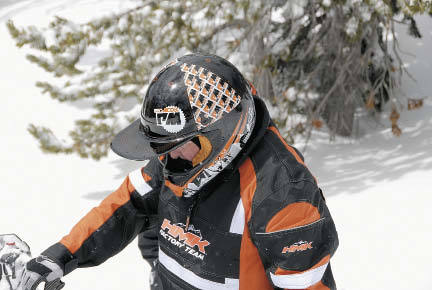 It is said that there are two reasons a person does something: There's a "good" reason … and then there's the "real" reason.
Take Jimmy Blaze for example. When he straps on his helmet before a breathtaking snowmobile back flip, he wants to put something on that is unique, flashy and has attitude.
So the "good" reason is he wants to look cool wearing his own designed ProModel Helmet with its distinctive ProVisor flat visor.
But the "real" reason he puts on the PM helmet is because he personally knows it consists of hand-laid carbon fiber and Kevlar shell construction for strength and protection. He also knows he'll have a comfortable fit with its removable/washable interior liner and interchangeable cheek pads for a custom fit. After all, not all back flips end with the rubber side down.
The SnoWest test crew was able to get our hands on the new PM snowmobile helmet this past winter for some real-time product testing. And although it didn't provide us with the courage or ability to do back flips, it provided ample protection from the elements.
The PM helmet has that unique look that separates it from other snowmobile helmets. The flat bill is designed to resemble a ball cap. The downside with this design is the bill tends to act as a sail at high speeds, creating a wind-lift on the helmet. It also doesn't do its job deflecting snow chunks when trail riding.
But for boondocking and terrain riding, the bill doesn't become an issue since the speeds are much lower and you're not as close to other snowmobiles.
The PM helmet is DOT approved. The carbon fiber construction makes it lightweight. A UV clear coated custom graphics makes it distinguishable. The helmet is manufactured in China.
For more information contact www.promodelhelmets.com.