We recently visited with Crazy Mountain Motorsports owner Mark Hoffman and he told us, "This past season has brought about the biggest design changes in CMX history."
So what are those design changes? Much of it has to do with electronic fuel injection and turbos.
"The reason we had not done turbos before now was because of the challenging requirements of fueling the engine properly when you are almost doubling the horsepower output of a stock Polaris 800 CFI engine," Hoffman said. "We have met those challenges with our own private labeled fuel control box powered by Dobeck Performance."
Hoffman said one of the most interesting things CMX learned while developing its own tuning box was why he was seeing so much inconsistency with all of the tuning boxes used on Polaris applications. He explained, "Polaris was very smart in its design of the CFI system. There are inherent advantages to where the fuel is delivered on a 2-stroke engine in relation to rpm. At low rpm it likes its fuel delivered through the crankcase and in the mid-range it likes it in the boost port area of the cylinder and then again at full throttle it needs it back in the crankcase.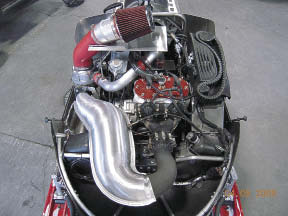 "With the advent of its new CFI, Polaris was able to enhance the performance by making proper fuel delivery. The problem with all tuning boxes on the market was that they were not looking at any information going to the crankcase injectors and that is why we were seeing so much inconsistency in the tuning."
So CMX worked with Dobeck Performance to correct this situation on the CMX tuning box and the inconsistency was gone.
When choosing which turbo to use, CMX decided on the Aerocharger T66 instead of a Garrett turbo. "There are many reasons we chose Aerocharger T66 turbos," Hoffman said. "We don't look for the cheapest parts, we look for the best parts. Most people know that an Aerocharger Turbo costs more than three times as much as a Garrett, so if you are building on a budget you will use the Garrett. The biggest advantage to the Aerocharger is how easy it spins. It takes approximately 4 horsepower to turn a Garrett turbo. It takes .14 horsepower to turn the Aerocharger."
That, Hoffman said, translates into no turbo lag for CMX. Another advantage to the T66 is that it is self-contained—no external oil reservoir, no oil pump, no waste gate and no blow-off valve.
The instrumentation area of the CMX has also been refined and reconfigured. CMX decided to go with air/fuel ratio gauges. The air/fuel ratio gauge was the best for tuning the super fast reacting turbo fed monster sled, Hoffman said.
Next is the seat. CMX worked with Skinz Protective Gear for two seasons to develop a seat that is the proper height for backcountry mountain powder riding as well as offer a built-in storage area for tools, snacks or other miscellaneous necessities. And the seat weighs just 6.5 lbs. For comfort the seat is flat in the sitting area and narrow at the front for better mobility. The all-black design with carbon fiber weave and other high-tech materials offers a unique look.
CMX uses Sly Dog Skis because they weigh just 5.5 lbs. each and they "carve very well and sidehill fantastically," Hoffman said.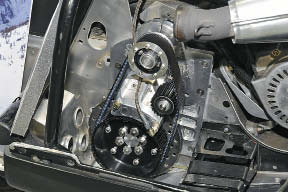 Returning standard features on the CMX include the exclusive Crazy Mountain Xtreme Belt Drive System (CMXDS), CMX Walker Evans Shocks, CMX ported tracks and CMX running board inserts.
As one last teaser, Hoffman said he has a top secret project in the works but declined to give very many details. We tried to get it out of him at the Intermountain Snowmobile Show in Utah this past October but he wouldn't budge. The name Hoffman has given this top secret development is CMX Project X. He said, "Project X will be tested and refined during the 2009-10 season for release in the fall of 2010." He promises to give sneak peak photos as the project progresses. So you might want to check www.crazymtn.com every once in a while.