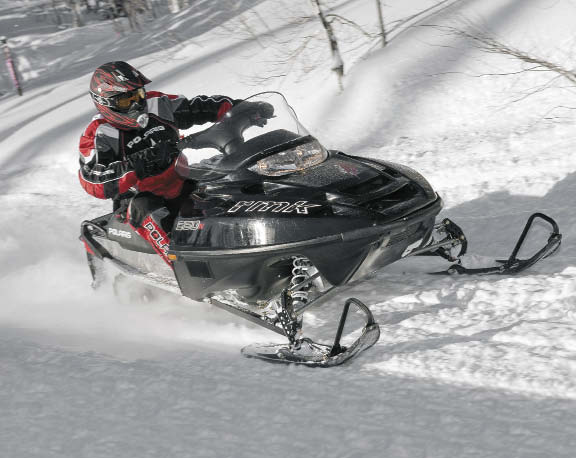 While it may seem the popularity or even the need for a fan class in the mountains is waning, there is one sled still hanging tough—the Polaris Trail RMK.
Almost since its inception, the mountain fan class has been the bottom rung for sledders beginning their climb to mountain riding. Sleds in this segment are easy to learn to ride and aren't too intimidating to those throwing a leg over a snowmobile for the first time.
It was just a handful of years ago that there were four mountain fan snowmobiles sledders could choose from. Now, with Ski-Doo dropping the Summit Fan from its lineup for 2010, there's just the Trail RMK. That dubious distinction now makes the Polaris Trail RMK the least expensive dedicated mountain sled you can buy.
There never has been much fame and glory for the mountain fan segment. This class—now a class of one—fills two niches that appeal to beginning and even some experienced riders alike. First, if you don't crave horsepower then the 60-horsepower sled is ideal and second, if you're on a budget, the Trail RMK—at $6,199—is a far cry more appealing than the $10,000-plus sleds in the bigger classes. While the $6,000 price tag for this mountain fan may seem a bit pricey, it really is rock bottom when it comes to snowmobiles designed for riding in the West.
A Basic Snowmobile

The Trail RMK, as were any of the mountain fan sleds, is the most basic of snowmobiles. There's no arm-wrenching or neck snapping torque. Nor are there any fancy shock packages or gauges. The Trail RMK is fan-cooled compared to the newer, more powerful liquid-cooled engines on today's big mountain machines.
There is no adjustable ski stance. The 136-inch track is the shortest of any mountain sled and while that seems long to many flatlanders who spend the majority of their time buzzing around on 122-inch tracks, the 136 is considered a "short track" to many of today's mountain riders. The 544cc engine is still a carbureted model, compared to the fuel-injected systems commonplace on bigger displacement snowmobiles.
Yet, despite its most humble features, the Trail RMK has proven it has staying power, now entering year No. 12 as a model. That may look like a long time for one model to stick around, especially when it seems sleds are recreated every couple of years these days, but you only have to look at the Ski-Doo Elan—which hung around for 25 years (1971-1996)—to see the Trail RMK has a ways to go to get any kind of endurance honors.
The Trail RMK may be a basic snowmobile but it is more than an engine, seat, skis and track. Any snowmobile is fun—fan-cooled or liquid-cooled—and the Trail RMK is no exception. In fact, the very name of the sled—Trail RMK—is a bit of a misnomer. The "Trail" part implies it's a trail sled. Far from it. Go ahead and jump off trail. You may not be able to frolic in two or three feet of powder but the Trail RMK will do just fine in a foot or so of deep fluff, thanks to the 136-inch track. The sled's weight (464 lbs. dry) is a bit much for the 60-horsepower engine in certain conditions, like steep mountains or the previously mentioned really deep powder, but once the rider learns what this machine can and can't do, the enjoyment factor shoots up.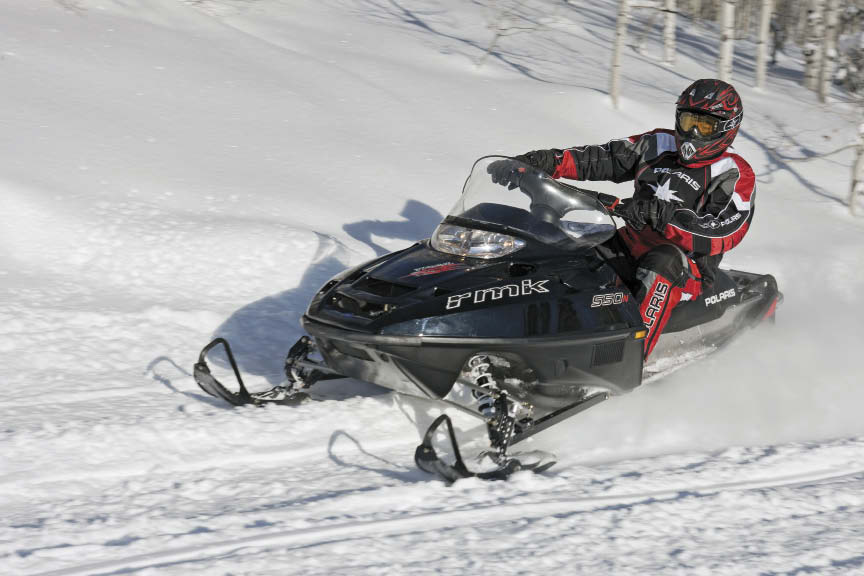 Some of the Trail RMK's features include reverse, a mountain strap, pretty decent rear travel (nearly 14 inches), a fairly decent depth on the track (1.25 inches) and a nice-sized gas tank (almost 12 gallons).
If there is anyone who is tired of riding his big cc snowmachine and is thinking about "dropping down a size" in snowmobiles, the mountain fan class is not for you. We're pretty positive you would be disappointed after riding a more powerful sled. Those riders should probably stop at a mountain 600.
The mountain fan—the Trail RMK—really is a beginner-size sled ideal for anyone learning to ride or perhaps those in their teen years and not quite ready for a liquid-cooled sled. The next size up in the mountain segment would either be the 80-horsepower, liquid-cooled Yamaha Phazer MTX or the 600 sleds (featured in the December issue of SnoWest). The 600s offer nearly twice the horsepower of the Trail RMK.
The mountain fan class is a niche sled in a niche market and the Trail RMK fills that role quite nicely.