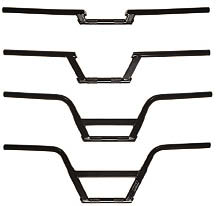 Bend or break your stock handlebars? If so, RSI has a new line of 7/8-inch chromoly handlebars that can get you back on the snow without breaking the bank.
The new line of chromoly rise handlebars from RSI is available in 2-, 4-, 6- and 8-inch heights. They are made from chromoly steel with a powdercoated black finish. The bars have 10-degree pullback and come with custom cut to width guide marks for narrowing bars to rider preference. The bars are compatible with RSI handlebar hooks and OEM handlebar hooks. Retail price is $39.95.
Contact RSI (952) 225-0452 or www.rsiracing.com.