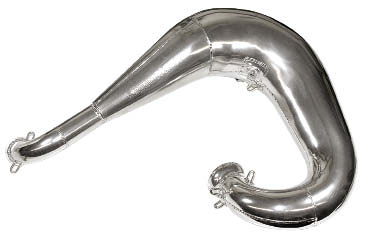 Okay, so normally, we only run stories in SnoWest of products we've reviewed in the past. But here are a couple of Speedwerx products we're looking forward to seeing firsthand how they pan out on the snow.
Speedwerx has been designing and testing lots of different parts and components for the 2010 Arctic Cat 800s—including the M Series. The components we're looking at are exhaust parts that have produced some pretty impressive gains if the numbers stay true.
Speedwerx has done dyno work on these components but was waiting for the snow to fly to see if those numbers hold up out on the snow.
According to the tech heads at Speedwerx, the new 800 engine from Arctic Cat "is out of this world." They say it's the "best stock single pipe motor we have seen." Because the new 800 H.O. engine is so solid, Speedwerx' Jeremy Houle said it's been tough to get the double digit gains in horsepower that his company can normally wring out of a motor with new exhaust components.
Houle said Speedwerx has seen peak horsepower of 157-158 at 8200-8300 rpm on a good heat soaked motor, simulating long hard wide open runs similar to what riders would see in the real world. Houle stressed that the dyno numbers they have seen are not just short, quick bursts showing higher numbers that are inaccurate when compared to real world riding.
The components we're looking at include the new Speedwerx patent pending adjustable Fat Daddy single pipe. The new pipe offers a 5 hp gain over stock running at 8300-8400 rpm. This system is similar to some of Speedwerx pipes in the past but this Fat Daddy has a different fit and finish for the new machine.
On top of the horsepower gains, the pipe is also adjustable to meet the demands for different elevations and fuel requirements. That is like having three pipes in one.
For example, setting No. 1 would be for between 0-5000 foot elevations for riders who want to or have to run 87 octane fuel on the stock sled, which requires 91 plus octane premium pump fuel. This would put out less horsepower than stock but would be safe with the lower grade fuel.
Setting No. 2 would offer the 5-horsepower gain over stock but still requires the 91 plus premium octane fuel for riding between 0-5000 feet. Finally, setting No. 3 is designed and intended for use above the 5000-foot elevation. This setting is designed as a tighter or higher pressure setting for the higher elevation.
In the past, Speedwerx was building two different pipes for the 800s—one for below 5000 feet and one for above 5000-foot elevations. Obviously this new adjustable pipe eliminates the need for two different pipes. That alone is intriguing.
This new exhaust system will require a fuel controller and Speedwerx is using the new Dyno Jet Power Commander 5. The pipe comes ceramic coated and shaves between 4-5 lbs. compared to the stock pipe.
Speedwerx is also tackling the weight problem that is known as the stock 800's 21-pound suite case for a muffler. The Speedwerx muffler will save 11-12 lbs. over stock, without sacrificing horsepower or performance. So, if you change the pipe and muffler, you can potentially save 15-17 lbs. over stock and get the horsepower gain. No fuel mods are needed with the new muffler.
There are two versions of the Speedwerx muffler: the standard muffler which uses all the stock mounting and outlet or the state-of-the-art Powder Advantage tunnel dump muffler for deep powder conditions. The Powder Advantage is designed to eliminate bogging and cutting out issues caused by deep snow conditions.
Stay tuned for upcoming issues of SnoWest to find out the on snow testing results of these new Speedwerx components.