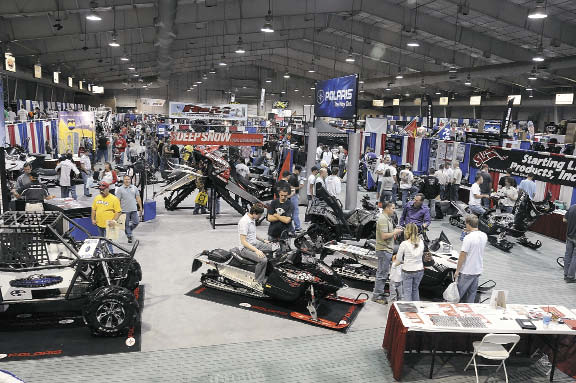 The Intermountain Snowmobile Show just seems to come at the right time.
The show definitely helps bridge the gap between the fun of summertime and the first snowfall. The snow show helps carry us over that dead time until we can take our sleds across a blanket of pure white powder or down a freshly groomed trail.
And there's no better way to get revved up for the upcoming season than to see what will help us enjoy winter all that much more.
If you need a new snowmobile—or just want to see what's available for 2010—then the Intermountain Snowmobile Show is the right place. All four major manufacturers will be in the Salt Lake County Events Center in South Jordan, UT, to show off their latest models and even let you open the hood, sit on the seat and poke and prod to your heart's content.
Each snowmobile manufacturer is located in one of the four corners of the main floor of the events center and in between is everything else you can imagine that has to do with snowmobiling.
Sponsored by SnoWest Magazine and the Utah Snowmobile Association, the snow show takes place Oct. 23-24. Hours are 3-9 p.m. on Friday, Oct. 23, and 10 a.m. to 6 p.m. on Saturday, Oct. 24. For directions to the Salt Lake County Events Center, you can log on to www.snowest.com and go to the snow show section.
Once on the website, you can also see a floor plan of the events center which shows all the companies which have signed up to exhibit at the snow show. In addition to the snowmobile manufacturers, there will be booths showing off clothing, aftermarket snowmobile parts, snowmobile destinations, snowmobile DVDs and trailers. The added advantage showgoers have by attending the show is that they can talk to the very people who have designed the parts, shot the videos and thus can give their expert advice on how it might work on your sled.
Many of the things snow show goers have come to expect at the Intermountain Snowmobile Show will once again be back again for 2009. Back will be the one-day swap meet, which takes place on Saturday. This is coordinated through the Utah Snowmobile Association.
Also, along the wall on the upper level you'll see the SnoWest Vintage Snowmobile Show. This has become one of the favorites for showgoers and those who own the sleds. Think of it as bringing the past to meet the future. For information on registering your vintage sled, log onto the SnoWest website and again, go to the snow show section.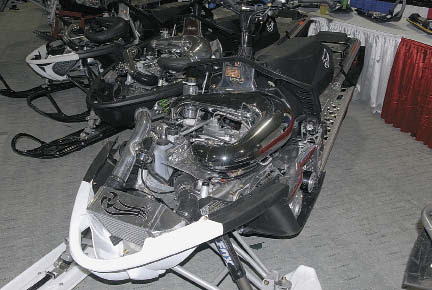 The show is also a great place to sign up for a membership in the Utah Snowmobile Association, one of the best state associations anywhere in the snowbelt. The USA booth will be manned all weekend by those who can give you any kind of information you'd like on snowmobiling in the state. The Utah Parks and Recreation will also have a booth (on the main floor) and can also give you information on sledding in Utah.
An added bonus this year will be riding seminars offered by one of the best in the biz—Chris Burandt. Burandt will share tips and insights on how to be a better rider in all kinds of conditions. Burandt's seminars are included in your price of admission to the show.
Here's a sample of who else will be at the snow show.
You can see the latest M Series snowmobiles, which feature all the up-to-date changes Arctic Cat has made for the 2010 season. Info: www.arctic-cat.com.
Kent Kawasaki/Arctic Cat can handle all of your snowmobile needs. Special pricing on parts and accessories from Arctic Cat, Scott, Powermadd, A.M.P. and Vega Helmets. Info: www.kentkaw.com.
Rocky Mt. Sledders is a Salt Lake City-based snowmobile group. The group rides every weekend. Stop in and say hi at the show.
Utah Trailer Source is your source for Wells Cargo sled trailers. From two-place to custom 35-foot rigs—we do it all and better than the rest. Contact www.utahtrailersource.com or call (801) 266-0103.
FirstPlaceParts.com offers the best selection and prices on aftermarket snowmobile parts, clothing and accessories. Offering Klim, FXR, Castle, Boss Seats, SLP pipes, avalanche gear, SlideKicks, Snobunje and more. Visit our booth at the Idaho and Utah snow shows. Contact (800) 396-7034 or visit firstplaceparts.com.
Two Top Snowmobile Rental is West Yellowstone's premier outfitter for snowmobiling in the Gallatin and Targhee national forests. Two Top offers interpretive tours into Yellowstone National Park. Discount snowmobile/lodging packages available. Contact www.twotopsnowmobile.com or (800) 522-7802.
High Adventure Power Sports and Marine is Utah's premiere Ski-Doo/Sea-Doo/Can-Am/Spyder Dealer. We also have Monterey/Stingray and Lowe Boats. High Adventure Power Sports and Marine … where adventure begins. Visit www.highadventureps.com.
Polaris will be showing off its 2010 RMKs as well as one of the hottest sleds on the snow—the Assault. Info: www.polarisindustries.com.
Cutler's Performance Center Established in 1988, CPC specializes in Arctic Cat performance parts. We offer turbo kits for M8 and M1000, clutch kits, gauges, big bore kits and more. Info: (801) 224-5005 or www.cpcracing.com.
R & M Lightning Products, the source for lightweight snowmobile performance enhancing products, makers of lightweight Stealth Mesh Hoods, R&M Heat Elimination Vent Panels and weight-saving Axess Seats with storage. Visit www.rmproducts.info or contact (800) 470-2442 for more information.
Utah State Parks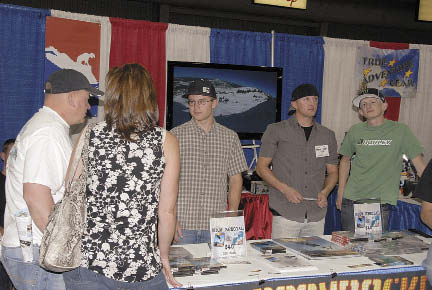 administers off-highway vehicle, boating and trails program and promotes education, safety and resource protection. Wear your helmet while enjoying Utah's trails and dunes. Don't forget your annual pass, your passport to play, discover and explore Utah's 42 state parks. Contact (801) 538-7429.
Island Park Cabins and Lodges offers luxury cabins 23 miles from Yellowstone National Park. Cabins feature gas fireplaces, hot tubs and satellite TV as well as gas grills. Linens, dishes and cookware are provided. Visit www.iprentals.com or call (208) 523-0612 for more information.
Frank May Ski-Doo & ATV has been in business for 42 years. It is owned and operated by Jim, Kelly and Frank Jr. and is located in Honeyville, UT. Contact (435) 729-8421.
Snobunje Snowmobile Accessories, products designed and tested by snowmobilers for snowmobilers. Stuck sucks, but with the help of Snobunje pulling tools it sucks less. For more information contact Snobunje (307) 235-4512.
Timbersled Products is a builder of lightweight snowmobile products and custom-built mountain sleds. For more information, visit www.timbersled.com or call (208) 255-5644.
Elko County is a land of adventure with wide open spaces and the best snowmobiling in Nevada. From the majesty of Ruby Mountain and Merritt Mountain/Sunflower flats you'll enjoy unforgettable snowmobiling. Contact Elko Convention and Visitors Authority at (775) 738-4091 or www.ExploreElko.com.
Mission Trailers by ALCOM are superior all-aluminum trailers. Quality constructed with an unbeatable warranty. The Mission line ranges from basic flat trailers to custom enclosed trailers.
Here is your chance to throw a leg over the newest 2010 Ski-Doo snowmobiles for the upcoming winter season. Info: www.ski-doo.com.
Full Throttle manufactures the innovative Goldfinger left-side throttle and the Hotpot stainless steel food warmer. Stop by our booth for special snow show pre-season pricing.
If you want to see the newest sled Yamaha has to offer for the mountains—the Nytro MTX SE—then head on over to the Yamaha booth. That will be just one of the models on display. Info: www.yamaha-motor.com.