Just when we were ready to say we put the final pieces—save maybe one or two—of the snowmobile riding puzzle together for Northwest Montana, we took another look at a map.
Yea, we're still missing numerous—perhaps countless—pieces of the snowmobiling puzzle.
Oh well, there's always next winter.
We know we've hit the major snowmobiling areas of Northwest Montana, including Yaak, Haugan, Stryker, Seeley Lake and points in between.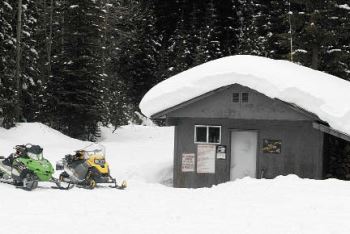 We thought we were placing some of the final pieces of that snowmobiling puzzle—which, when done, would be a true masterpiece of Montana sledding—when we rode the mountains around the Flathead Valley this past winter. But not so much.
Scan the maps and you realize just how much there is to explore in the mountains that dominate Northwest Montana and the Flathead Valley. We covered a good chunk of real estate last winter around the Flathead Valley but it's a mere drop in the bucket when you zoom out on the maps.
And we know it's worth a return trip because we've been there several times now and haven't seen or ridden the same area twice yet. There's plenty left to explore.
One More Piece
Our most recent adventure to Northwest Montana found us riding out of the Flathead Valley, more specifically north and a bit west of Columbia Falls and Whitefish one day and south and east of Hungry Horse the next. Both of these areas are close to the grandeur of Glacier National Park. The awesome beauty of that national park doesn't stop at its borders but spills over into the surrounding ranges and valleys. And you're never far from the spectacular views of the impressive mountains inside Glacier National Park.
One of our most recent trips before this last one found us riding up near Stryker, out of the now closed Loon's Echo Resort. That riding area is roughly halfway between where we rode this past winter and the Canadian border. The area east of Stryker and north of Upper Whitefish Lake all the way to the Glacier National Park border and then north to the Canadian border is one area we'd love to explore. There are ungroomed forest roads all over that slice of Montana that lead to what looks like some awesome backcountry riding.
We got a taste of it last winter when we hit points south of there.
We trailered north out of Columbia Falls to the Canyon Creek parking area/trailhead, probably one of the most popular sledding starting spots in the area as it accesses more than 80 miles of groomed trails. It sits at about 3,600 feet and is large enough for several rigs and trailers. From the parking area you head north past Spoon Lake, eventually crossing Canyon Creek.
Once you cross the Canyon Creek bridge you have two choices. You can turn left and head along the groomed trail towards the backside of Whitefish Mountain Ski Resort, more miles of groomed trails and lots of forest roads that lead into the backcountry. Keep going and eventually you get to Upper Whitefish Lake and points beyond (including those places we still want to explore).
Kimmerly Basin
The other option is to continue north and a little west on a groomed trail that leads to Kimmerly Basin. It's only about 5.5 miles from where you cross the bridge until where grooming stops and you end up in Kimmerly Basin, the trail steadily gaining elevation until you hit about 6,000 feet in the basin. Once there, you're surrounded by mountains that are littered with trees. You can poke your sled in and around the trees and play on the hillsides. Depending on your riding skills, you can find some challenging stuff in Kimmerly Basin, but for the horsepower junkies with big metal, you'll want to find a way over the Smoky Range to bigger hills and steep drainages.
There are actually several ways into the tougher terrain, including back near where you cross Canyon Creek coming in from the parking area. An ungroomed trail—clearly marked on the forest service map—peels off the Kimmerly Basin trail and leads to some great backcountry riding. It's also that same trail that takes you right near the border of Glacier National Park.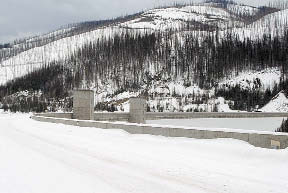 Or, if you've headed toward Whitefish Mountain Resort after you crossed the bridge, the forest service map shows several forest roads you can take to access that part of the backcountry. On our day of riding this area the clouds were low, there was a little snow and the light was flat so we had to stay close to the trails and in lower elevations.
We went to several spots on and off the trail where we could gain some cool views of the valley below, including looking down on Whitefish Lake. We also visited the survival cabin, where anyone can stop to warm up, get out of the elements or just stop to rest. The cabin is off Forest Road 316, which, incidentally, if you continue on that road, will take you into the backcountry and several drainages.
Lunch Stop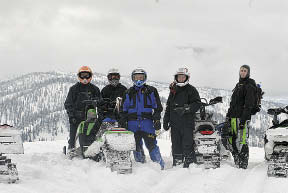 While in this area, we also stopped at the Summit House for lunch. The Summit House sits at the top of Whitefish Mountain Resort, which actually provides a parking area not too far away for snowmobilers who want to grab a bite to eat. Our guide for the day, John, said it's not uncommon on weekends to see 30 or so sleds parked there while their owners hit the Summit House for lunch. Admittedly, it did feel a bit weird to be riding so close to a ski area and then sharing lunch with skiers in the Summit House. But the ski resort has a long history of working well with the snowmobile community, including providing the parking area for sleds. The Summit House has your usual ski resort food and it was a nice, warm place to take a break.
A groomed trail leads to the parking area but you have to cross one of the ski runs—Hell Fire—to access the parking area. Remember that skiers have the right away as you cross the run, which is about 30 yards wide.
Not too far from the Summit House and just off the groomed trail is an overlook where, on a clear day, you can see as far as Polson. That wasn't our luck on the day we rode there. The mountain was socked in.
The riding in this part of the Flathead Valley—indeed this part of Northwest Montana—will feel and look very similar to sledders who have also ridden in northern Idaho and northeastern Washington. The terrain, trees and geography are very similar between all three locations.
Boondocking At Its Best
Our ride near Hungry Horse Reservoir on day two of our excursion was decidedly different from the first day. We never touched a groomed trail from the time we unloaded until we loaded the sled back up and drove home. We parked in a small area across Hungry Horse Dam—where there's room for just a handful of trucks and trailers—and headed out on a road that hugs the shoreline on the entire west side of the reservoir. Make no mistake, this road has probably never ever seen a groomer. It is whooped out with a capital W. It was standup riding for five plus miles until the road smoothed out somewhat as it was obvious the number of sledders chose to bail off the trail and head into the backcountry. We continued on several more miles before we shot up the mountain into acre after acre of glorious untracked powder and spectacular boondocking.
One of our guides for the day, Robbie Holman, owner of Avid Products, said most sledders turn up one of the two first major drainages closest to the parking area and play on the ridges at the top. Of course, those areas get the most use so we went farther back in—it took a little longer but it was worth it. The riding back along the farthest reaches of what is known as the Lost Johnny area and Wounded Buck, Clayton and Wildcat creeks was some of the best riding we had all season. Of course, you'd probably never want to tackle it without someone who knows the area, as some of the drainages and ridges can be fairly intimidating.
The trees weren't nearly as thick in this area, due, in part, to a forest fire that went through years ago and thinned the forest out. That made for some excellent tree running and ridge dropping without worry or fear of pinballing off trees all the way to the bottom.
We also had better visibility on day two, which allowed us to see for miles in every direction when we were on the ridgetops.
Our two days of riding took us to just two of the more than half-dozen riding areas around the Flathead Valley. Other areas with parking areas and/or trailheads include:
Desert Mountain, which is accessed out of the town of Hungry Horse.
Olney, located just off Highway 93 north of northwest of Whitefish.
Upper Whitefish Lake, which can be accessed from the Olney parking area or Stryker area (near the old Loon's Lake Resort).
Marias Pass, located on the southern border of Glacier National Park between Columbia Falls and the town of East Glacier Park.
Crane Mountain, which is just outside of Bigfork between Swan Lake and Flathead Lake.
It's important to pick up a forest service map of the area before you head out to ride. The riding here isn't always dictated by the amount of snow but rather by set dates. For example, the route to Whitefish Mountain Resort from Canyon Creek is open Dec. 1 through April 15, even if the snow lasts well into May. Those are the dates the forest service has dictated for that groomed trail. Specific dates for the various riding areas in the Flathead Valley are all detailed on the forest service map.
So while we were only able to add a couple more pieces to the Northwest Montana snowmobile puzzle on this trip, we'll happily keep working on filling in the missing pieces in winters to come.
Elevation 3,000-7,000 feet

Snowfall 150-275 inches
Miles of Groomed Trails 200
Full Service Town Kalispell, Columbia Falls, Whitefish, Bigfork
Nearest Airport Kalispell
Getting Started Flathead Convention & Visitors Bureau (800) 543-3105 www.fcvb.org
Getting There Generally speaking, Flathead Valley is at the crossroads of U.S. Highway 2 and U.S. Highway 93, although there are a couple of other smaller highways that access the valley. U.S. Highways 2 and 93 provide the main access to the snowmobile parking areas, which aren't located too far off either highway.
Getting Around J&L Snowmobile Rentals and Sales (406-892-7666 or www.jandlrvrentals.com) is the only rental facility permitted to guide on the Flathead National Forest. The company has locations at Whitefish Mountain Ski Resort as well as a valley location on Highway 2 West. J&L has a couple dozen Ski-Doo sleds for rent with or without guide service.
Bedding Down A variety of accommodations are located in and around the communities listed above. We stayed in one of the Glacier Outdoor Center's (800-235-6781 or www.glacierraftco.com) cabins. Located right across the highway from Glacier National Park (about a half-mile from the park entrance) so the views out the front porch are nothing short of amazing. You can't ride from the cabins to the snowmobile areas, but it's not far to trailer to those areas. The cabins are immaculate, cozy and come furnished with everything you need for a great stay. Each cabin has a full kitchen and full bath and are available with one or two bedrooms. The 1-bedroom cabins sleeps 6 with 2 queen beds and a log trundle bed in the living room. The 2-bedroom cabins sleeps 14 with four queen beds and three log trundle beds. All cabins are non-smoking. And winter rates are really very reasonable, especially considering what you get. It was a great place to stay.
Eating Out There is a variety of restaurants scattered all over the region to satisfy any kind of taste and appetite. We had lunch at the Summit House at Whitefish Mountain Resort and the food was good although the place was fairly crowded