Snowmobile Capital Of The World
Dear Editor:
I've never ridden in West Yellowstone. I'm sure the riding there is pretty spectacular. But as far as I'm concerned, there is one snowmobile capital in the world and it's Eagle River, WI. ["You Decide," SnoWest, January, 2009, page 66.]
The history of Eagle River is so in depth and rich that West Yellowstone can only dream about it. Riders from all over the country would just like to say that they have ridden at Eagle River.
Your article has failed to mention the ice racing which has made Eagle River what it is yesterday, today and in the future (I believe it will come back). I'm not sure you can say that for West Yellowstone's snocross. Yes, West Yellowstone probably has the best scenery in North America, but as for the opportunities to ride for miles and miles, you can't say that for West Yellowstone because you are so confined to one spot.
I will say this. I think West Yellowstone might be better if it would combine the Jackson Hole, WY, and West Yellowstone together and ride to both locations then maybe you can make a case, but it would be still a small one at that.
Another thing. West Yellowstone has shot themselves in the foot with the national park (Yellowstone) where I can't ride my on OWN SLED (I've got an '05 800 H.O. Summit X) in the national park whether it is a 4-stroke or a 2-stroke and this is discrimination.
There would be some riders who would make a case that Valcourt, Quebec is the snowmobile capital of the world over West Yellowstone. But there again, I think Eagle River trumps Valcourt (history).
Don't get me wrong, West Yellowstone has its place and I would sure love to go out there and play in the mountains but there is one snowmobile capital in the world—Eagle River, WI. And no, I'm not from there.
Snowtoad
Bradford, PA
(ED—Snowtoad and I responded back and forth via e-mail a couple of times. Here is my response: How can you say one place is better than the other if you've never been to West Yellowstone, MT? Just curious.)
Snowtoad's response:
I'm sure if you look at the history of snowmobiling, Eagle River would be part of that history. The racing at Eagle River started in the 60s and ever since then the manufacturers have all wanted to be at that event to win that race. You can say a lot things that come from that race ended up on our machines.
Just not sleds but the gamut of sledding stuff. Yea, right now the ice racing has lost its luster but snocross has replaced it and I believe ice racing will be coming back. My dad ice raced over here but never ice raced at Eagle River. It was a dream that he wanted to do and never got to do. But we took a trip out to Eagle River and got to run on the track that he never got to race on. He had a smile as big as a Cheshire cat and that was the highlight of the whole trip.
The Deckers run a first-rate establishment. Eagle River bends over backwards for the snowmobilers. From Eagle River you can ride for miles and miles to several different states and to Canada. Eagle River draws crowds every weekend and the main purpose is to ride snowmobiles. Now don't get me wrong. By no means, I am NOT ditching West Yellowstone. There is mystique and history that Eagle River has that West Yellowstone doesn't. Yes, I've never been to West Yellowstone and the scenery is most likely the best in the world. As a rider, it is one place that is high on my list to ride. I'd say that most riders that go to West Yellowstone have one thing to do and it is to ride into the national park and I bet if you did a survey you would find out that 75 percent are not snowmobilers. This is not to diminish West Yellowstone by any means.
I guess what I'm saying is West Yellowstone is not a snowmobiling town like Eagle River is. West Yellowstone is a tourist town. Maybe tourist town is a harsh statement, but it isn't the same as Eagle River. I hope you understand what I'm saying.
The first thing I would do is ride in the national park before the greenies take it away from us. It's a shame that I can't ride my own sled in the national park and I hate to say this but the people of West Yellowstone took that right away from me. Yes, I've ridden in the mountains out West in Cache Valley, UT. I had a blast. I can't wait to do it again.
(ED—I don't even know where to begin…)
Global Warming
Dear Editor:
Your commentary in Volume 34, Number 10, Runnin' on Empty: "Ways to Combat Global Warming, Climate Change or Whatever It's Called This Week" [SnoWest, page 10] seems to cast doubt on global warming as being the creation of unscrupulous or gullible journalists. The result of the commentary is to perpetuate the us-versus-them mentality that has prevailed for far too long in both the snowmobile and environmentalist camps.
I agree that news publications and our laws and regulations relating to this matter should be based on facts. It is a fact that the vast majority of the world's climate scientists support the premise that man is primarily responsible for the overwhelming increase in greenhouse gasses in our atmosphere today.
You don't have to take Al Gore's word for it. This is the opinion of the National Science Foundation, the Environmental Protection Agency, the National Oceanic and Atmospheric Administration, the United Nations, etc. Even former President Bush finally acknowledged that humans are the cause of global warming in 2007.
Skepticism on motives and funding sources should be given to public offerings by authors whose counter-theories on this matter have not been subjected to scientific peer review.
To quote Franklin Delano Roosevelt, "We need enthusiasm, imagination, and the ability to face facts, even unpleasant ones, bravely."
Robert Werth
Leavenworth, WA
(ED—Check this out: http://www.worldclimatereport.com/index.php/2008/12/02/will-the-un-chill-out-on-climate-change/)
Your Online Ads
Dear Editor:
You don't need to use "hot girls" to sell your stuff. A visitor to your site, if they choose not to see your "hot girls," has two choices at present: log off your site or continue viewing items on your site, with alternating pop-up images of your "hot girls" along the far-right side of the page. I'm referring to swapmeet. I dunno if that is done elsewhere on your site.
Why not give visitors to your site three choices, like to continue their visit without the girls?
Grow some big ones and be more than just greedy, money-grubbing publishers who'll run anything for anyone as long as the price is right.
I speak from 15 years experience as a publisher. I understand the business. It is your business. Run it like you want it to continue, not like the end user is unimportant.
Alan Leavitt
Jerome, ID
Polaris Never Die
Dear Editor: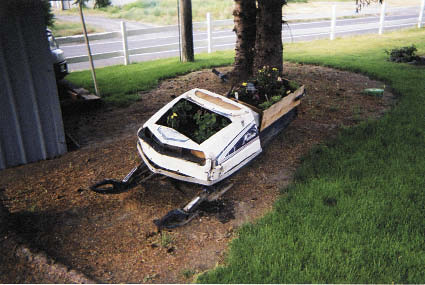 Old Polaris never die, they just serve other purposes.
Check out this 1979 Polaris Colt 340 SS. It won't live to ride another day but we get year-round enjoyment.
As always, love your magazine.
Randy and Lynn Schaal
Warden, WA