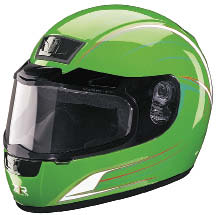 The perfect blend of style and function, the Phantom sets a new direction for others to follow. From the flowing clean lines to the functional venting system and the no-tool quick release shield mechanism, every detail has been refined to maximize performance and comfort.
The comfort and fitment are superb due to multi-density padding and plush interior. The helmet features a modular design that allows for full-face or open-face riding with a removable breath box included. The fiberglass composite shell exceeds DOT standards and the helmet offers a comfortable, padded interior with Nylex lining for a secure fit. Adjustable ventilation on the chin and forehead with exhaust in rear are standard features and the chin vents help prevent fogging. There is a scratch-resistant double lens anti-fog snow shield.
The helmet retails for $209.95.
Contact your local dealer or www.z1rhelmets.com.