Toward the end of every average snowmobiler's season come hard, concrete snow conditions in the mornings that slowly turn into six inches of slush by mid afternoon. You know what we're talking about: the late March and April snow that really sends your mind into dreams of next year's January, with its bottomless powder days.
While this may describe the way most of us feel as temperatures rise, snow depths fall and that desire for a nice day on the hill fades, for those living in Cooke City, MT, the powder season is still in full swing. While we sit at home repairing broken sprinkler heads in the yard, they're still out busting through waist-deep powder, enjoying the warm spring weather.
Getting There
Cooke City is a little town nestled in the heart of some amazing mountain scenery right along the Montana/Wyoming border, just outside the northeast corner of Yellowstone National Park. Ever wondered what exactly was placed at the edge of the earth? Well, in the wintertime, the answer would be every snowmobiler's paradise—Cooke City. After the snow flies, there is only one way in and one way out of this quaint little town, giving you the feeling this really is the end of the earth. Upon arrival you'll find there is no reason to travel on any further.
This is the place, the place we dream about when we want to get away from it all. Just you and your family or your best riding buddies, some sleds and some of the best snow you'll ride all season.
Entering Yellowstone National Park through the northern entrance in Gardiner, MT, you'll travel just over an hour east through the Park. While the excitement of arriving in Cooke City may be all that's on your mind, don't overlook the beauty that surrounds you. The drive through Yellowstone National Park can make for quite the experience in itself. If you're making your trip in late spring, the wildlife will be in full view for most of the trip.
After the drive through the Park and exiting the Northeast Entrance you'll continue traveling down Highway 212, bringing you ever closer to Cooke City. Just pulling into Cooke City will help you understand why this is the place every snowmobiler dreams about at night. One main street, a couple places to eat, one or two gas stations and some lodging and very few people—what else could a snowmobiler need?
This is where the plowed highway ends. Any further traveling east at this point is done on snowmobiles and for good reason. With snow depths that would cover most small houses, why would you want to spoil good scenery and riding areas by viewing it through a car window? The Cooke City area is a beautiful destination spot best viewed through snowmobile goggles.
Riding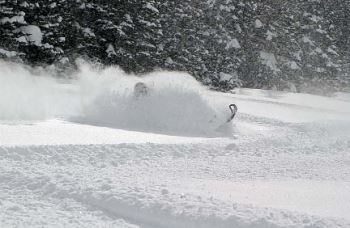 Just west of the Beartooth Pass (elevation 10,947 feet) is some of the best backcountry riding Montana has to offer. You literally ride from your lodging's doorstep and you quickly rise from Cooke City's elevation at 7,600 feet to more than 10,000 feet in no time at all. While the trail map only shows 60 miles of groomed trails, we challenge you to cover it all over the course of three or four days.
Trails are groomed often and kept in great shape throughout the season and while you don't necessarily need to spend much time on them to get to the deep backcountry, they are nice for a relaxing cruise back to the cabin after a long day on the hill. The trails are well marked and, with a map you can pick up just about anywhere in town, just about anyone could find his way around the area.
Just a quarter mile outside of town you'll come across the Daisy Pass Trail, which is the shortest route to Cooke City's high country. The trail ends as you reach the saddle at Daisy Pass, where you'll find some wide-open country, countless drainages and some great boondocking. The Daisy Pass area is great for the novice rider while still offering enough technical riding for you experts. After dropping down into the bowls north of Daisy Pass, traveling back to the west will uncover some good hillclimbing, tree riding and, after a good storm, more powder than you'll know what to do with. Be sure to pay attention to the latest avalanche conditions, as some of the area is known for frequent slides.
The Lulu Trail is a little longer route to the high country, but again, you're here to ride, right? Following up the Fisher Creek drainage, you'll find some great boondocking along both sides of the trail. You could spend hours riding the deep stuff through this drainage and never get more than 300 yards from the groomed trail. While the groomer stops at the base of Lulu Pass, by mid season snowmobile traffic will have made a nice route over the pass, which again will overlook the entire Cooke City riding complex. Looking down from Lulu Pass you'll see open powder areas, rolling hills and more tree riding. Cooke City's terrain allows for nice, easy riding or some of the nastiest hillside tree riding you'll find anywhere. The Lulu and Daisy Pass areas have just about everything, no matter your skill level.
Services
The townspeople depend on snowmobilers throughout the long snow season and accommodations here are great (see itinerary), as are other services available in town. This is small town hospitality at its best.
While on a map the Cooke City riding area may look small, we rode a full three days and still left plenty of unridden powder behind—unfortunately. If you're looking for a nice weekend getaway, needing to get away from the office or are just wanting to do some great mountain riding, Cooke City has what you're looking for.
Elevation 7,000-10,000 feet

Snowfall 225 inches
Miles of Groomed Trails 60
Full Service Town Cooke City
Nearest Airport Bozeman (135 miles)
Getting Started Cooke City Chamber of Commerce 406-838-2495
Getting There Cooke City is located right on the Montana/Wyoming border just outside Yellowstone National Park. In the winter, you can only access Cooke City from the west. From Interstate 90 you take exit 33 and head south on U.S. Highway 89 toward Gardiner. At Gardiner you enter Yellowstone National Park. At Mammoth Hot Springs, you head east on U.S. Highway 212 and drive until you get to Cooke City, where plowing of the highway ends. It's about 110 miles from where you leave the interstate to Cooke City.
Getting Around Contact the chamber for a list of snowmobile rental agencies.
Bedding Down During our visit to the Cooke City we stayed at the Antlers Lodge (406-838-2432), located on the very end of Main Street. Owners Bill and Kay Whittle are avid snowmobilers and know the Cooke City backcountry better than most know their own house.
The accommodations at the Antlers Lodge, while quaint, were cozy and very comfortable. Cabins are filled with all the amenities you'll need throughout your stay. With home cooked breakfasts and dinners, you'll eat like kings at the Antlers Lodge. The kitchen and main lodge area are open bright and early every morning until 10 a.m. for breakfast (we recommend the biscuits and gravy). Dinners at the Antlers were nothing short of amazing also. The atmosphere here is very relaxing.
If you happen to make the trip to Cooke City, be sure to visit the Antlers. Bill can update you on riding conditions and doesn't mind telling you how to get to the best riding spots. We were even lucky enough to tag along with the Whittles for a day on the hill..
Eating Out Cooke City offers numerous other places to eat and relax after a long day of riding.