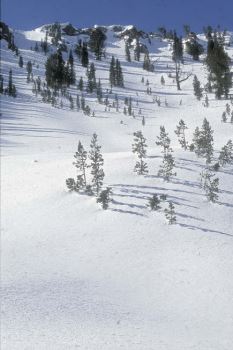 Sun Valley is perhaps the most famous place in all of Idaho—and yet probably the last place on just about every snowmobiler's riding radar.
Oh, Sun Valley and the mountains that ring the Wood River Valley have all the elements that make for a great snowmobiling trip—an abundance of snow, excellent sledding terrain, spectacular scenery, plenty of groomed and ungroomed paths and, yes, plenty of sun.
So why is snowmobiling in the area not nearly as famous as the alpine skiing? Mostly because skiing is king and everything else takes a backseat, including snowmobiling. It could also be that Sun Valley has long been a playground (and second home) for the rich and famous, many of whom, we're guessing, could care less about snowmobiling.
Driving through town and the outskirts is like being in an episode of Lifestyles of the Rich and Famous. Some of the more famous people who have homes in the Sun Valley area include Demi Moore, Bruce Willis, Arnold Schwarzenegger and Tom Hanks.
Back To Reality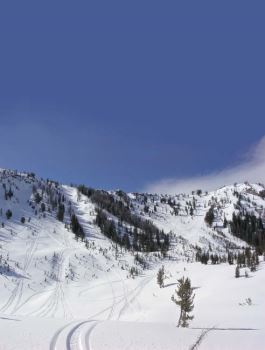 Thankfully, a couple of miles out of town and you're back to reality and the natural beauty that is the very magnet that attracts so many people to this area. That natural beauty most decidedly includes several mountain ranges that extend north, east and west from Sun Valley.
All those mountains mean there's plenty of room for everyone who likes to play in the heavy blanket of snow covering all those peaks and valleys here to enjoy their own version of winter fun. That's not to say there aren't any challenges to figuring out the legal places to snowmobile around Sun Valley. Indeed you can find some sweet spots to legally ride your sled but you need to do your homework first before just unloading and squeezing the throttle.
Here's an example of what we're referring to when we say you have to do your homework. This comes directly from the Sawtooth National Forest website in referring to specific areas to ride.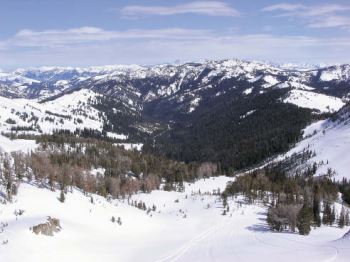 "Hyndman Basin – Closed to winter motorized use until March 15. Includes lower Hyndman Creek and Hyndman Basin. After March 15, snowmobilers are urged to avoid the area of the ski hut and two adjacent ski slopes in Hyndman Basin, to assure quality recreation opportunities for skiers."
You'll experience similar Sawtooth National Forest policies throughout the Wood River Valley and surrounding mountains, which is why it's best to check with that national forest before venturing out. The contact number is (208) 622-5371 or stop by the Ketchum Ranger District, located at 206 Sun Valley Road in Ketchum.
Lest anyone think we're trying to discourage sledders from taking in the Sun Valley experience,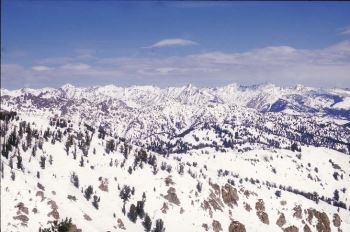 we're simply encouraging you to know the rules before you go so you're not disappointed.
There is a decent amount of snowmobiling opportunity in Blaine County, home to the Wood River Valley and many of the surrounding mountain ranges. With 120 miles of groomed trails and countless other ungroomed trails, it's not like you spend just an afternoon here and then move on to another of Idaho's famous snowmobiling spots. Stay a while and enjoy some of Idaho's best—if not most famous—snow.
Baker Creek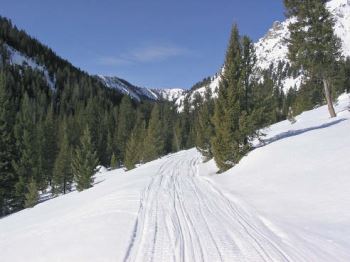 The destination for our day of fun in the sun was the Baker Creek drainage, located north of Sun Valley off Idaho Highway 75 but a few miles south of the Galena Summit (elevation 8,701 feet). There is a decent-sized parking area on the northeast side of the highway where you can unload, cross the highway and get on the Baker Creek Trail.
We shot up the meticulously groomed trail which follows Baker Creek, playing on a couple of hillsides along the way. We then peeled off onto Forest Road 170, which was groomed for a short distance before narrowing down into a single track trail through the trees along Norton Creek. We gradually gained elevation—just more than 2,200 feet from when we left the parking area—as we climbed towards the Norton Lakes and then came upon an untracked mountainside above the lower Norton Lake where we spent a lot of time playing under the blue bird sky. It was an ideally-sized pocket of a perfect mix of challenging terrain and deep snow. Much of the time we played on the east-facing slopes, which held the snow well despite it being mid-March.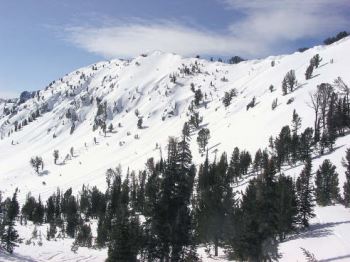 After playing that area out, we climbed a saddled and crossed into a large drainage fed by Big Lost Lake and Smoky Lake. Above Big Lost Lake is an imposing ridgeline for challenging hillclimbing, evident by the numerous snowmobile tracks that led toward the top of the ridge. While we never saw any other sledders the day we rode, this is the spot where we saw the most tracks. Other than that, we were the first tracks most everywhere we rode that day in the Baker Creek drainage.
What made riding this area so much fun wasn't just all the ridges and ranges and resulting drainages, but it was how those ridges were lined up. There are about a half dozen ridges (a thousand feet or so above the ravines they create) running east/west. Then you have a
monstrous range that runs north and south along the western edge of these smaller ridgelines where you can climb and get stunning views of the surrounding mountains. The bigger north/south ridgeline marks the border between Blaine and Camas counties and, depending on where you pick to climb to the crest, is between 9,500- 10,000 feet. All of these mountains are part of the Smoky Mountains.
One spot we chose to climb on that ridge was south of Baker Lake and the altimeter on our Ski-Doo Rev XP read 9,800 feet. When we dropped off the ridgeline we quickly lost 700 feet in elevation and we weren't even down at the bottom of a drainage but on a small plateau above the creek bottom.
View From The Top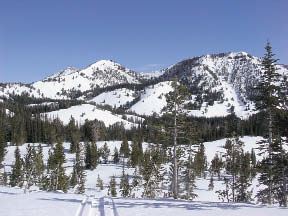 It was from that last spot on the ridge that we had the best views of the entire day. To the east we could see the Boulder Mountains a little to the north and the Pioneer Mountains to the south. It's also from this spot that we were just about directly west of Sun Valley and Ketchum, both of which were about 13 miles away as the crow flies. The Pioneer Mountains sit on the other side of Sun Valley and Ketchum.
To get to the spot where we climbed that ridge for the view, we dropped down the Apollo Creek drainage and shot back up the Baker Creek drainage, actually taking the groomed trail that we baled off earlier in the day. The groomed portion of the trail ended and we made our way through the trees up the mountain to where it opened up into a huge play and climbing area.
Aside from the previously mentioned east-west ridges, there are plenty of rolling hills as well that gradually give way to the steeper north-south ridge. And although it hadn't snowed significantly for a few days prior to our ride, we managed to find pockets of excellent powder. Of course, in the next several days following our ride in Sun Valley, the area got pounded by storm after storm.
We followed Baker Creek up as far as we had time to and then headed back to the pickup. Once we picked up the groomed trail it was a quick 10-mile ride back to the parking area.
Okay, it wasn't that quick because we stopped to play on a hillside across Baker Creek from the groomed trail. What a great stop that ended up being. The snow was near-perfect on that hillside and we had it all to ourselves. That small area was typical of what we found all day in the Baker Creek area. Play it out and then move on to the next. We passed far more play areas like that than we stopped at. The groomed trail simply serves as an ideal access to get to all those play areas and the backcountry. The trail map would be pretty simple to make for this area. One way in, one way out. One trail.
Baker Creek is just one of the areas in the valley where you can ride. On the same side of the highway as the parking area are several more miles of groomed trails in and around the Boulder Foothills. Another is the Wood River Recreation Area three miles west of Hailey, in the south end of the valley.
Snowmobiling in Blaine County and the intensely famous Sun Valley area is ironic in a way in that just up and over Galena Summit is one of the most popular snowmobiling spots in the American snowbelt—Stanley. Stanley is to snowmobiling what Sun Valley is to skiing. Perhaps that's one of the reasons snowmobiling is overlooked around the Sun Valley area, even though sledders pass by places such as Baker Creek on their drive to the Stanley Basin. We think snowmobiling is worth a look—and a stop—in Sun Valley/Blaine County. If you want to get technical, part of Blaine County's trail system is over Galena Summit near Smiley Creek, although most sledders associate Smiley Creek with Stanley system.
You won't leave the Sun Valley area any richer monetarily, but chances are you will be richer for the experience.