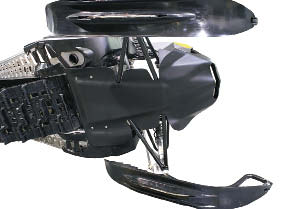 A new, lighter, better fitting Ski-Doo XP protective Float Plate is now available from Skinz Protective Gear, adding to its Float Plate product lineup that includes models for the M, Firecat, IQ, Nytro and Phazer.
The plate has been re-trimmed for a better fit in addition to the weight loss. The new design also provides better clearing of snow build up while still providing the superior floatation of the previous design. The high molecular weight plastic that Skinz uses provides unparalled protection. Available in black, yellow or white, the XP Float Plate sells for $119.95.
Contact Skin Protective Gear (320) 243-8771 or www.skinzprotectivegear.com.