What A Sledder Needs For Less Than $100
AL'S SNOWMOBILE PARTS WAREHOUSE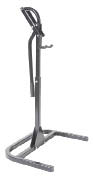 (802) 487-1000
www.AlsSnowmobile.com
SNOWPAK SNOWMOBILE LIFT
Easily lifts front or rear of machine from as low as 12 inches off the ground. Anti-slip handle. Fits all snowmobiles. Powdercoated, heavy-duty steel construction. One year warranty.
$59.95
BLUHM ENTERPRISES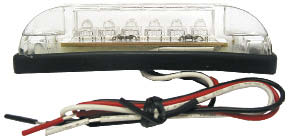 (612) 812-5191
www.britelites.net
NEW LARGER 5-INCH LED TAILLIGHT KIT
The new LED 5-inch LED taillight provides a larger taillight option for a complete taillight that is bright and good looking. The 5-inch LED uses eight super bright square LEDs to make it the brightest LED taillight unit available. It is mounted in a tough clear plastic housing for the popular "Euro" look and comes with a black rubber mounting pad. Simple installation connects to existing wiring.
$29.99
BURLY PRODUCTS

(877) 822-7226
www.burlyclamps.com
BURLY CLAMPS
This innovative product replaces the old style screw-down ski clamps on most snowmobile trailers. It's quick and easy. Just slide it into place and clamp, taking only seconds.
$89.95
CRAIGGERBUILT.COM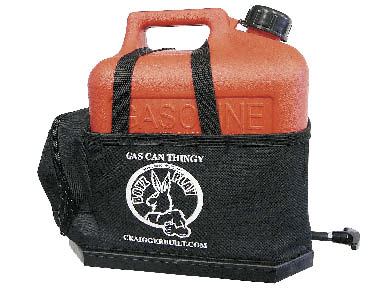 (208) 847-2500
www.craiggerbuilt.com
GAS CAN THINGY
The Gas Can Thingy mounts easily to any snowmobile, ATV or snowbike and with just one pull of the T-handle the can is removed for fast refueling. Complete with a 2.08-gallon can and extra pocket for tools.
Fits all model snowmobiles, ATV and snowbikes
$79.95
DUGAN
(406) 227-8705
www.throttlesense.com
THROTTLE SENSE


The Throttle Sense left hand throttle, made of lightweight resin, is easy to install, has no direct link to the carbs and is universally adaptable to nearly every snowmobile make/model.
Each kit contains the parts necessary for complete installation including a spacer for use with the handlebar application.
A safety lock pin is provided for use when loading, off-loading and when inexperienced riders are operating the snowmobile.
$60 plus shipping
HELMETLIGHT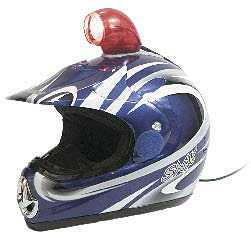 www.helmetlight.com
LEAD-DOG HELMET LIGHT
Look, see and be seen with this removable combination spot/tail/brake light that fits in your pocket when not in use. See where you are looking, not just where your machine is pointing. And riders behind you see the tail light and brake features letting them know your intentions.
$84.95
LEFTYS

(866) 465-3389
www.leftysasap.com
LEFTYS SIDE HILLER 2 LEFT HAND THROTTLE KIT
The most user-friendly and easiest to install left throttle kit on the market. CNC machined from billet aluminum. Very easy and smooth pull. Made in the USA.
$98.95
RECREATIONAL NECESSITIES

(320) 252-0278
www.suregripdolly.com
SURE GRIP DOLLIES
Sure Grip Steerable Dollies are great for the shop, trailer or trail. This 5-inch wheel kit allows you to easily drive your sled under power, in forward or reverse. Drive on grass, gravel roads, up onto or out of your trailer. Includes a track dolly for non-powered use.
$99 or $139 for Mega-Wide
RECREATION SUPPLY


(306) 664-3560
RSR SLED SAVERS
Are hard packed or icy trails cutting into your riding time? RSR has a solution to keep you moving. RSR Slide Savers are a skid frame mounted system that helps supply a spray of ice and snow to keep your sliders lubricated and your engine's coolant system functioning. When not needed, they can be easily hooked up out of the way.
With RSR Slide Savers, you can save weight on your sled by removing some unnecessary idler wheels. Each universal kit includes springs and mounting hardware for one snowmobile.
$69.95/pair
RPM COMPOSITES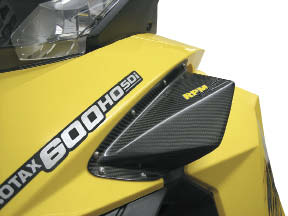 (508) 896-7313
www.rpmcomposites.com
REV XP AIR FILTER SCREEN GUARD
Every XP owner should have one of these. This simple bolt-on part does an impressive job of keeping the XP Air Filter from clogging up with powder. RPM Composites' Air Filter Guard also protects the fragile air screen material from the inevitable tree branch.
The Air Filter Guard is constructed of carbon fiber and woven, high impact fiberglass material. The kit includes stainless hardware and comprehensive instructions. This product looks great and is quick and easy to install.
$84
STARTING LINE PRODUCTS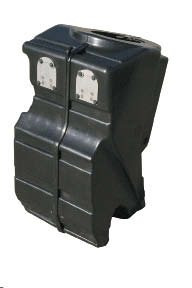 (208) 529-0244
www.startinglineproducts.com
SLP POWDER VALVES FOR POLARIS IQ, IQ RMK
These trick new flapper valves are installed in the air box and activated by air box vacuum. If stock intake begins to plug in deep powder snow, these valves open to deliver the necessary air flow the engine demands. Fits Polaris IQ and IQ RMK models.
$49.95
TAILITES BY FOURBARR

(360) 659-8182
www.fourbarr.com
LED CUSTOM, PERSONALIZED TAIL/BRAKE LIGHTS
LED custom or personalized tail/brake lights by Fourbarr Industries are state-of-the-art technology and completely watertight.
Starting at $79.95
TRUE ADVENTURE GEAR

(208) 562-1391
www.tagear.us
TRUE ADVENTURE GEAR HANDLEBAR BAG
This do-all HandleBar Bag securely attaches to all mountain bars and other sleds with bar risers. Can also be attached to an ATV or motorcycle rack or used as a fanny pack when you stop for lunch or take a break from your sled.
The bag has a large, padded, main pocket (holds cameras or tools), inner zip pockets and side pockets (hold a water bottle or a 530 Rino). One of TNA's small Storm Pouches can be carried in the side pockets. Lots of ways to attach extra gear.
$59.95
FULL THROTTLE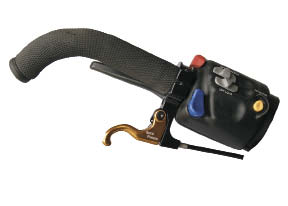 (509) 927-7533
fullthrottleinc.com
GOLDFINGER LEFT THROTTLE KIT
The Goldfinger left throttle makes sidehilling easy from either side of the sled. A recent SnoWest survey placed left throttles in the Top 5 list of snowmobile accessories.
Model-specific kits available for each snowmobile from 1995-2009.
$99.95
NO-GAS CAN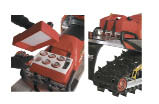 (208) 680-6001
www.nogascan.com
NO-GAS CAN
Yes, we have No-Gas Can. This No-Gas Can will eliminate frozen and broken drinks. Remove the insulating insert and 16 cans are protected, all held in place by the clamping design.
$39.95
What A Sledder Needs For Less Than $500
AVALANCHE TOOLS

(866) 680-0872
www.AvalancheTools.com
PIEPS DSP AVALANCHE BEACON
Play it safe in wild country with the best beacons on the market. All avalanchetools.com's beacons come with a free pack, shovel or probe and free shipping.
$449
BLACK DIAMOND XTREME ENGINEERING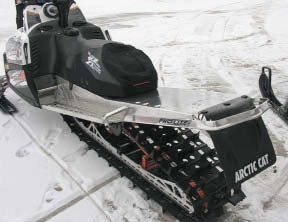 (507) 824-9966
www.BD-Xtreme.com
PRO-LITE SERIES REAR BUMPER
Finally, a rear bumper that loses 3.5 lbs. and looks great too. Each kit includes the bumper, billet supports and all hardware needed for installation.
The bumper is designed for the Arctic Cat M Series as well as the 1M and King Cat.
$229.95-249.95
CARVER PERFORMANCE

(888) 349-7469
www.carverperformance.com
FOX ZERO-PRO REAR SHOCKS FOR YAMAHA
Now available for the Yamaha Phazer and Nytro are Fox Zero Pro rear shocks from Carver. The shocks are available for the 2007-09 Phazer and 2008-09 Nytro.
$289.95-299.95
CATDEALS.COM


(507) 337-1000
www.CatDeals.com
2008 ARCTIC CAT SNO PRO PREMIUM ORANGE COAT
CatDeals.com has a great holiday price on the 2008 Arctic Cat Sno Pro Premium Orange Coat. It is regularly priced at $309.95 but CatDeals.com is selling it for just $199.95.
This jacket features a Tex waterproof, breathable outer shell with 200 grams of Thinsulate insulation, 100 grams in the jacket and 100 grams in the matching zip-out liner. Underarm and back zippered vents adjust airflow for peak comfort. Mesh panels feature 3M Scotchlite reflective material to keep the coat highly visible from all angles.
$199.95
DALTON INDUSTRIES


www.daltonindustries.com
NEW C TYPE FOR ACT DRIVEN WITH ELECTRONIC REVERSE
Some '09 and newer Arctic two-stroke models have the electronic reverse system and require a notch in the ramp for the reverse. These are still the earlier style adjustable "C" helix models that require a DHC-100 cover kit or a 2005 type Arctic adjustable cover and hardware to use on the newer sleds that came with a cast one-piece helix. Dalton designates all models with the notch for electronic reverse system "CR" followed by the angle. If it is a progressive type cut it would be designated by the suffix "P" after the part number.
JT SPORTS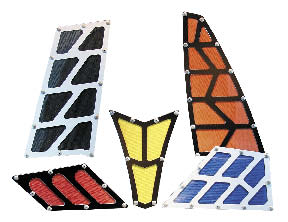 (406) 885-3677l
www.jtpanels.com
LIGHTWEIGHT VENT PANELS
Increase air flow while adding a custom look to your snowmobile. Panel frames are constructed from a plastic and aluminum laminated material. New designs this year for Arctic Cat, Polaris, Ski-Doo and Yamaha snowmobiles.
$22.50-350
MILLENNIUM TECHNOLOGIES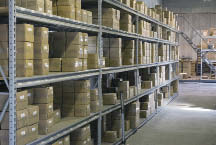 (920) 893-5595
www.mt-llc.com
CYLINDER CORE EXCHANGE SERVICE
Millennium Technologies has one of the largest inventories of stock cylinders in the industry. Often it can ship a remanufactured cylinder the same day you call.
Starting at $214.95
MOUNTAIN MOTOR SPORTS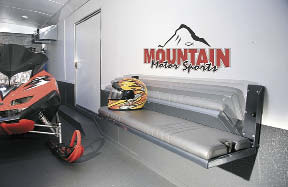 (208) 476-3024
www.mountainmotorsports.biz
TAKE A SEAT
Made out of aluminum, there is no chance of rusting so don't worry about the moisture from your snowmobile hurting this seat. It will withstand a 600-pound load. Two full-grown men can sit and put their boots and gear on.
You no longer have to haul around folding chairs and then try to find a place to store them. The 2-inch vinyl-covered cushion provides a comfortable seat. It folds out to a full 16-inch seat and folds away to only 3.5 inches from wall. Standard model comes in natural aluminum. The seat can be powdercoated to nearly any color you want.
$349.99
POWERMADD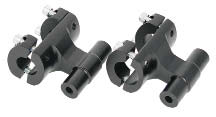 (800) 435-6881
www.powermadd.com
POWERRISER
The PowerRiser features a one-piece solid aluminum design for superior strength. 3.25-inch wide fits 7/8-inch bar clamps on all snowmobiles as well as Bombardier and Polaris ATVs. Provides dual pivot points, allowing for bars to be positioned front to back and rotated up or down. Two-inch rise will work on most snowmobiles with no cable modification. ATVs should check available cable slack. Two models available: for 7/8-inch bar clamp using 7/8-inch bars and for 7/8-inch bar clamp using oversize 1 1/8-inch bars.
RENTON COIL SPRINGS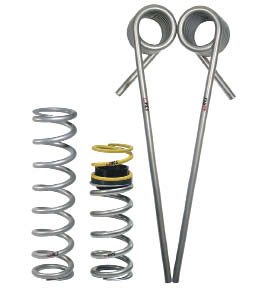 (425) 255-1453
www.rentoncoilspring.com
RCS TITANIUM SUSPENSION SPRINGS
RCS Titanium Springs offer up to 40 percent weight savings over stock springs and are much more resistant to taking set.
Spring rates and sizes are available for most applications.
$249.95 and up
SCOTT USA

(800) 292-5874
www.scottusa.com
IMPACT JACKET
The Impact Jacket, constructed with TriPhase waterproof, breathable fabric, is the ultimate for any sled rider out there. It has every feature under the sun, including a waist gaiter, mp3 pouch, multiple strategically placed pockets and a removable hood.
Available in black.
$179.99
SIMMONS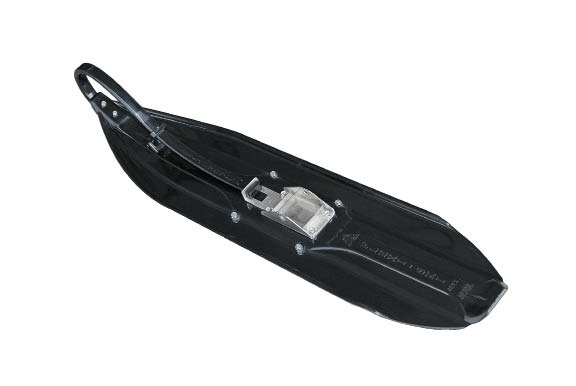 (435) 752-4951
www.flexi-ski.com
SIMMONS SKIS
Through extensive testing the Simmons Flexi-Ski is engineered to provide incredible control. Designed to flex through bumps and ruts, the Flexi-Ski absorbs the shock normally taken by your arms and legs. Darting is eliminated. Turning is improved as your sled holds the corners. It also offers tremendous flotation in deep snow and increases your ability to sidehill, making it the best all-around ski available.
Generation 1 $399 for black, $406 for colors; Generation 2 $440 for black or colors
SKI-DOO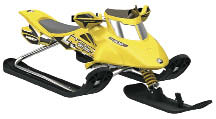 www.ski-doo.com
SNOW CROSS RACER SLED
Now kids aged six and older can get the Ski-Doo MX Z experience going down their sledding hill with the new Snow Cross Racer sled.
There's awesome control from the Pro-Grip steering, front ski suspension and metal snow brake. Add in the ergonomically designed seat and you've got a great downhill "freestyling" sled capable of cool stunts and tricks. The only limit is the 150-pound capacity. Styling is pure Rev-XP, from the signature dual headlamps to the X-package-style handgrip wind deflectors and MX Z 800R graphics.
SKINZ PROTECTIVE GEAR


(320) 243-8771
skinzprotectivegear.com
PRO SERIES SNOWMOBILE MOVERS
Tired of the wheels breaking, the backs giving way or the caddies flying out from under your sled just when you get going? Then this may be for you. Precision ball bearing wheels, aluminum body (lightweight/durable), longer/wider than conventional set for superior stability, large three-inch diameter swivel wheels, ball bearing swivels, riveted tough liner and straps to secure to the sled.
$224.95
SNO-SKINZ BY ZSKINZ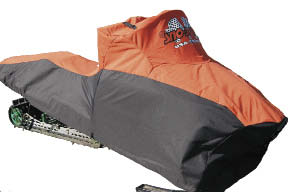 (800) 355-3136
www.snoskinz.com
SNO-SKINZ
Get your money's worth.
Custom fit for each make and model, highest quality polyester fabric, superb workmanship and guaranteed as long as you own your sled.
$209.95-219.95
HMK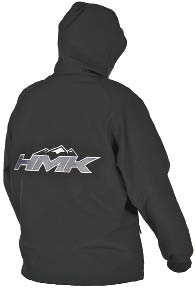 (541) 386-3262
www.hmk.com
HMK TECH HOODY
Made for all levels of riding and lounging, the HMK Tech Hoody keeps you dry and warm. Made to be waterproof, windproof and breathable. Great for everyday use as well as on the snow.
Available with gray, orange or pink logos
$119.95
SNOBUNJE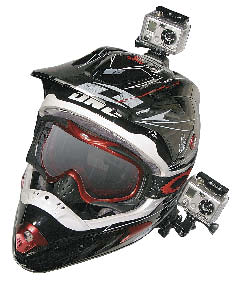 (877) 250-2015
www.snobunje.com
MOTORSPORTS HERO WIDE ANGLE, 5 MEGAPIXEL VIDEO CAMERA
An action video and still sequence camera that is waterproof and can quick release mount on helmet, bike, sled, car and more. No cables, battery pack or recorder to tie you down; everything is in the camera. Powered by 2 AAA batteries, it uses a 2 GB SD card (not included) to shoot 56 minutes of TV resolution 30 fps video with sound or activate "Photo Every 5 Seconds" mode to automatically shoot hands-free photos of the action for more than two hours (1400 + photos). It is easy to use and comes with everything you will need to easily play back to TV or computer.
$195
SPEEDWERX

(651) 982-6020
www.speedwerx.com
POWDER PRO LIGHTWEIGHT MUFFLERS
This muffler was designed and intended for deep snow/deep powder applications. The new Powder Pro Lightweight Mufflers eliminate the bogging or cutting out of your snowmobile when riding in these conditions, while at the same time cutting up to 12 lbs. in the process. Some drilling and grinding is required during installation. These mufflers come complete with necessary hardware and instructions. These mufflers produce stock-like sound levels and work with stock or Speedwerx Fat Daddy Single Pipes. Fit Arctic Cat 2007-09 Crossfire/Crossfire R/M Series 800 and 1000cc models.
$350 painted black, $455 ceramic coated
SPOT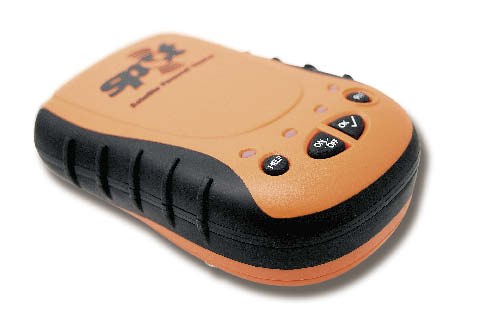 (866) 651-7768
www.findmespot.com
SPOT SATELLITE MESSENGER
Introducing SPOT, the world's first Satellite Messenger. Raising the safety factor for millions who take to the outdoors each year, SPOT notifies friends, family or an international 9-1-1 emergency call center with status messages based on situation and need. Alert 9-1-1, ask for help, check-in and track progress—all with the push of a button.
SPOT gives peace of mind to adventure travelers, business travelers or anyone who wants a product that keeps them connected whenever they want to be.
STRAIGHTLINE PERFORMANCE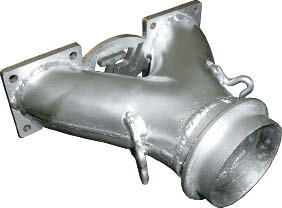 (651) 466-0212
www.straightlineperformance.com
800XP Y-PIPE
Straightline Performance's 800XP Y-pipe is a solid 2-3 horsepower gain with improved torque through the entire mid range. Peak power remains the same with no jetting changes required. Available in black and polished ceramic.
$180 for high temp black, $200 for polished ceramic
BACK COUNTRY ACCESS

(303) 417-1345
www.backcountryaccess.com
TRACKER DTS
When ease of use matters most. Tracker DTS is the easiest avalanche beacon to use because of its rapid processor and simple user interface. Real-time display shows both direction and distance to the buried victim.
$289.95
FIRST PLACE PARTS


(800) 396-7034
www.FirstPlaceParts.com
OFFICIALLY LICENSED MONSTER ENERGY APPAREL
First Place Parts carries a complete line of Castle X clothing and HJC helmets, along with Monster Energy apparel.
Jacket $219.95
What A Sledder Needs For More Than $500
ABSOLUTE POWER & PERFORMANCE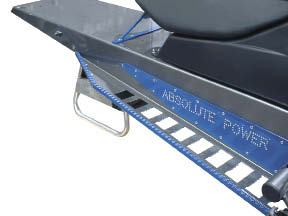 (780) 460-9101
abspow.ca
POLARIS DRAGON PRODUCTION TUNNELS
These lightweight and strong tunnels incorporate an open foot well design for better snow evacuation and traction on those steep climbs. They come with a cooler and rear stiffener/drop bracket. This trick design keeps you looking and performing at your best.
$2,100, also available in a variety of colors for around $250 more
EZ-RYDE SUSPENSION


(906) 482-7530
www.ezryde.com
EZ-Ryde
EZ-Ryde is the premier western riding suspension. It tames the bumps and dominates the steepest mountains. There is no additional cost, just bolt it in and enjoy the Ryde.
Fits all makes and models from a 136-inch track up to a 174-inch track.
$2,365
LEIPHEIMER YAMAHA/PRINCE GEORGE YAMAHA

(250) 562-4151
www.princegeorgeyamaha.com
MC XPRESS TURBO KITS
Want more power? There is only one choice. MC Xpress has been building turbo kits longer than anyone else in the sports industry, with the largest production in the world.
Starting at $5,099 CDN
NEXTECH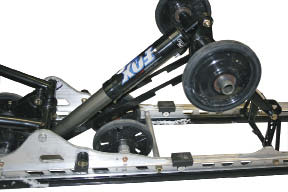 (780) 983-5389
www.carbonsled.com
REV XP REAR SUSPENSION AIR UPGRADE
Nextech has introduced its new rear suspension air upgrade to fit the Rev XP. This is a complete kit to replace your stock steel springs with modern air. This kit provides more control of sag height and transfer while providing a plush, bottomless ride. Plus it offers a 7-pound weight reduction. The kit is available for other mountain machines and installs easily using factory arms and tunnel holes.
$699.99 CDN
ROCKY MOUNTAIN XTREME

www.rockymountainxtreme.com
FREERIDE 10L
New for the 2009 season is the Freeride 10L from ABS. This super light Avalanche Airbag backpack weighs 4.74 lbs. and has 170 litres of buoyancy volume in the airbags along with 10 litres of storage with a hydrobag compartment.
TIMBERSLED PRODUCTS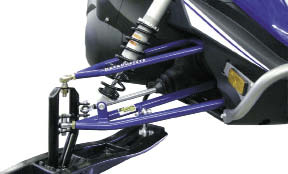 (208) 255-5644
www.timbersled.com
BARKBUSTER FRONT SUSPENSION
Each kit saves 9 lbs. on the Phazer, Nytro and 12 lbs. on Apex. Kit steers 10 degrees sharper than stock and has a 39-inch variable ski stance and will adapt the sway bar. Included spindles provide your sled with improved handling and more positive steering in the deep snow. Kits are available in black, blue, red.
$850
TRACKS USA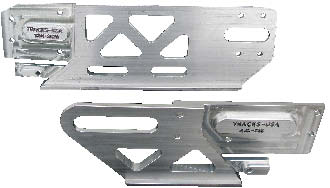 (320) 382-6128
www.TracksUSA.com
CHALLENGER EXTREME TRACKS, TRACKS USA RAIL EXTENSIONS
Camoplast Challenger Extreme 2.5-inch is the ultimate deep snow performance track. Now available in 2.86-inch and 3.0-inch pitch for all makes and sizes. Also available exclusively from Tracks USA are model-specific rail extensions that allow for the complete extension of your hyfax.
Starting at $575 and $105
HOLZ RACING PRODUCTS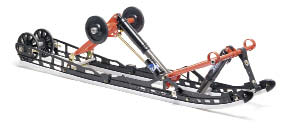 (360) 398-7006
www.holzracingproducts.com
HOLZ RACING PRODUCTS ALPHA X SKID
The next generation mountain performance rear suspension for RMK and Rev/XP with new geometry and premium shock package, the Alpha-X nails the sweet spot, delivering maximum traction and transfer with unmatched control.
$2,500