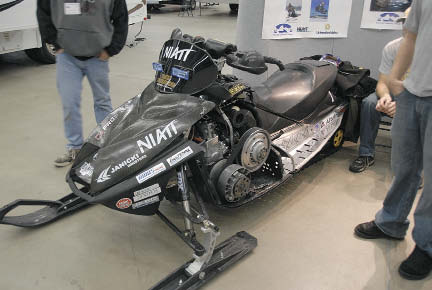 Students from the University of Idaho have continued to be leaders at the annual Clean Snowmobile Challenge, proving this year that even 2-strokes can compete.
After winning the competition in 2002, 2003 and 2007, the mechanical engineering students at the U of I earned second place at the 2008 event with their Ski-Doo 600cc direct injected 2-stroke.
The object of the competition is to design and build a low emissions and fuel efficient snowmobile while maintaining stock appearance and performance. That is something much easier said than done. The graduate and undergraduate students started by modifying the Bombardier Recreational Products 600cc H.O. head design. Engineering a new head for the motor that would accept the new direct-injection system became one of the key components to making for a more
efficient engine without sacrificing performance. The head was designed to use an Evinrude E-Tec injection system, which resulted in much lower emissions and improved fuel economy over the stock injection system, all while using E-85 fuel, a clean-burning blended ethanol.
A major goal for the students was to also decrease overall sound levels of the machine, so a custom exhaust system and sound absorbing materials were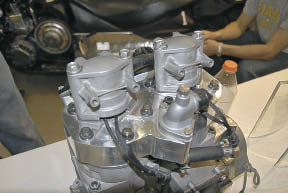 used in the silencer and body panels.
After countless hours engineering and designing, and numerous failed pistons, the students at the University of Idaho finally found the combination of engine tuning and head design to produce a reliable, clean-running snowmobile.
The group effectively showed that even a 2-stroke can be competitive at the Clean Snowmobile Challenge.
For more information on the University of Idaho's snowmobile, log on to www.uiweb.uidaho.edu/uicsc/.