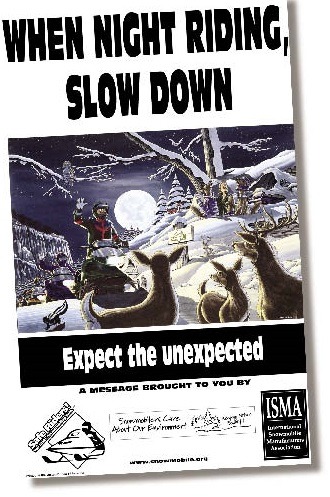 The winter of 2008-09 is rapidly approaching and the International Snowmobile Manufacturers Association has prepared for safety trainers and snowmobile enthusiasts some new and updated Safe Riders! campaign material.
The material consists of a 22-minute safety video that is used in conjunction with safety training worldwide. ISMA also has available video public service announcements and radio public service announcements. ISMA will distribute snowmobiling fact books free of charge which contain more than 20 pages of facts on snowmobiling that can be used when discussing issues with land access managers, politicians, community leaders and others.
Also available are the Safe Riders! helmet stickers and of course a complete offering of Safe Riders! posters. The posters cover key campaign issues such as:
Snowmobiling and alcohol don't mix – Don't drink and ride
Ride Smart Ride Right – Stay in Control
When night riding, slow down – Expect the unexpected
Know before you go – Always check local ice conditions
Cross with care – Don't become road kill
One is the loneliest number – Never ride alone
Ride Safe, stay on the trail – Respect private property
Know the risks and be prepared – Make every trip a round trip
The poster series features world class artwork created by Robert Van Nood and the posters are and can be displayed in warming huts, restaurants, lounges, club houses, schools, CVBs, garages and more.
If you are in need of some Safe Riders! materials, please visit the ISMA website at www.snowmobile.org and request an order form for the free Safe Riders! material.
In addition to the safety material available from the manufacturers, at this time of year ISMA looks to the Farmer's Almanac prediction. In case you haven't seen the latest Farmer's Almanac, here is a quote from the Almanac.
"This winter will draw little comfort from the Farmer's Almanac which predicts below average temperatures for most of the United States 'Numb's the word,' states the 192-year-old publication— which claims an accuracy rate of 85 percent for its forecasts that are prepared two years in advance."
The Almanac's 2009 edition states that at least two-thirds of the country can expect colder than average temperatures this winter with only the SW and SE in line for near normal readings. The Almanac predicts above normal snowfall for the Great Lakes and the Midwest and above normal precipitation for much of the country. "The NE and mid-Atlantic regions will likely have an unusually snowy February," the Almanac states.
Not to be outdone by the Farmer's Almanac prediction, the snowmobile manufacturers are working with a special YouTube creative source. ISMA is creating a special Snow Dance that will be featured on YouTube and available for distribution soon.