The only constant is change.
That definitely holds true when it comes to producing a snowmobile. Many times before a snowmobile gets to the point where it will be mass produced, changes have to be made. Sometimes these changes are out of necessity or practicality or the result of engineers, numerous test riders, dealers and demo riders thinking something can be made better.
It's not uncommon for a snowmobile manufacturer to tweak part of a sled between the time we ride the machine in the winter to the time it goes to production the following fall. In fact, sometimes after riding a particular machine, we're hoping some changes are made to that model, just to make it that much better for the upcoming winter or to correct what we think might be a flaw. We're not saying that's the case with the following changes.
Rather, these production changes came to us from the manufacturers this fall before the sleds went to the line to be built. In some cases, these updates are the final specs for the respective machines. That means if you test drove a model or saw it during a spring event at your local dealer, the following might just be an update of what you saw.
Polaris RMK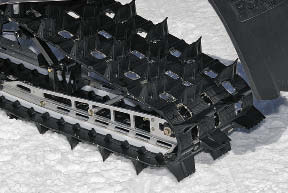 LWT (single layer version) track will be on '09 Dragon models only.
Polaris removed wheels, the front cooler and added scratchers on all Dragons. Saves 2.5 lbs.
The P2 (Polaris Performance) driven clutch will only be on Trail RMK, 600 RMK Shift 144 and 600 RMK 155 models. All other RMK models will be produced with the LWT (lightweight) Team driven clutch.
Ski-Doo Summit
Earlier this summer, Ski-Doo sent us a laundry list of changes the company was making to its 2009 Summit lineup, just to keep us up to date on what's happening.
You'll recognize the changes listed under "Summit Transmission System" as we've already detailed what was going on there. The other updates have to do with various parts of the Summit.
Summit Transmission System
Belts
A new belt was developed especially for the demands of mountain riding. This new 417300377 belt is 4 mm shorter and 1 mm wider for a better fit in the pulleys and more adjustability for deflection as it wears. And its sophisticated compound resists heat de-lamination and cord pull-out.
Engine alignment has been modified to increase belt life.
New gear ratio on the Summit 146-inch (21/45)
TRA sliding bushing and roller
New bushing and roller materials significantly increase the life of those parts.
RPM fluctuation
Ski-Doo acknowledges a high rpm variation in different riding conditions (i.e.: 8200 rpm in climbing/8500 rpm on trail riding, speed was the main factor) or the need to adjust the drive pulley clickers for a small altitude variation.
Ski-Doo designed a new drive ramp to get a more linear load curve, combined with a new 43/47 CAM helix. This setup also gives a more loaded shifting characteristic.
Consequently, these corrections help to:
Reduce belt temperature.
Reduce sensitivity of altitude variation.
Have a more linear calibration.
Have a more loaded feeling that gives a stronger low-end response.
Feel even more the raw power of the 800R Power TEK.
QRS Secondary adjustment
The QRS has been totally redesigned. Here are the changes:
The locking mechanism is redesigned. It now works like a bicycle headset, with two tubes with sliding wedge profiles. Tightening the bolt squeezes the wedges together, locking it as solid as can be with just 1-2 turns. This new system won't be affected by changes in temperature like the previous version.
Holes in the plastic bushing are much deeper, so the adjustment tool's prongs won't slip out.
You can use both the adjustment tool and a socket at the same time because the tool is now U-shaped between the prongs.
Changing the bolt head to a more common 13 mm means the socket in the standard tool kit works perfectly.
Clutch guard
Has been modified to be easier to remove and replace.
Hydroformed driveshafts
Working with its supplier, the welding and machining process is changed. In terms of quality control, the steel used in creating the axle will be more closely scrutinized and 100 percent of all shafts will be inspected before leaving the supplier's factory.
Chaincase
The problem of the bolt heads popping off is corrected.
Prefilter
To reduce snow and ice buildup on the cab intake, Ski-Doo is inserting one-inch open-cell foam inside the prefilter sock that pushes the surface against the hood.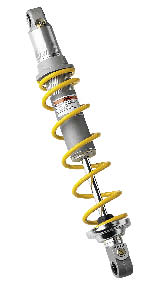 Shock calibration
Some Summit shocks did not have the correct gas pressure (300 psi) on delivery, reducing ride quality. More stringent quality control procedures will take care of this.
Springs
Stiffer springs will be available as accessories for riders heavier than the 180-pound benchmark and for those who carry fuel caddies.
Track edge fraying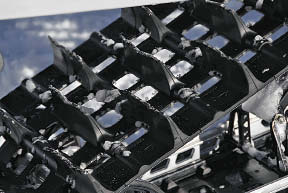 We're making a few changes to prevent track rubbing against the tunnel and edge fraying:
The track flash will be trimmed on both sides.
A modification on the rear arm length will keep the tunnel spread to its designed width.
Round head bumper bolts and flash-mounted rivets will be used in the tunnel.
Sag
Some consumers have been uncomfortable with the suspension sag of their Rev-XP-based Summits. The changes noted above to shock pressure, proper rear arm length and stiffer springs (when appropriate) will reduce the sag.
But the increased travel of the SC-5M (now about 15 inches) requires SOME sag, something most riders will get used to.
If you have any questions about these changes, you should visit with your local dealer.
Yamaha
The following changes pertain only to the 2009 FX Nytro MTX.
Secondary Shaft Housing and Bearing
FX Nytro-type bearing and housing is used.
Driven sprocket bolt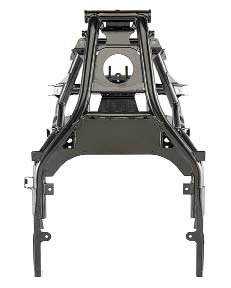 For increased strength, a new bolt has been adapted.
Front frame
Two additional gusset plates have been added to increase the rigidity of the front frame.
Tool bag
New tool bag.
Urethane foam has been added to secure the inner tool bag.
Rear suspension
New SOQI aluminum high pressure gas shocks.
Center: 40 mm piston, 12.5 mm rod.
Rear: 40 mm piston, 12.5 mm rod with adjustable compression damping.