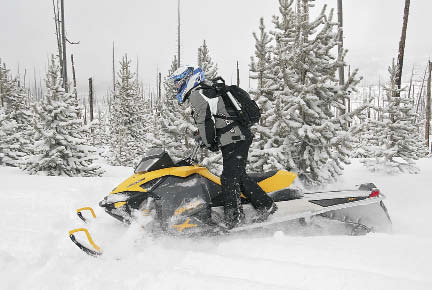 When the editors here at SnoWest Magazine were asked to test drive Scott USA's winter outerwear, we had to admit we didn't know too much about that line of winter apparel. We knew that Scott USA bought the Scandinavian-based Reima a few years back and integrated that clothing line into what the Idaho-based company wanted to do with winter clothing, resulting in what is available today.
Reima was a popular winter clothing line in many snowmobile circles and Scott is working to expand the lineup to appeal to a broader segment of the snowmobile market.
It's not like we didn't know anything about Scott USA. We've been using the company's goggles for years but hadn't really tried any of its clothing until this past winter season.
We've reviewed the Impact Jacket and Wander Pant in the October issue of SledHeads and are looking at the Stryker Jacket and Honcho Bib for this issue of SnoWest.
The Stryker Jacket features Gore-Tex fabric, which we all know works in the environment snowmobilers love to play in. It offers a barrier to keep the wind and water out while allowing your body's perspiration to escape. The zippers are water-resistant as well, giving the wearer a near complete barrier against outside moisture. There are vents in the underarm area and on the back and a waist gaiter keeps the snow dust from creeping in from the rear.
There is a removable soft shell jacket, which was a welcome addition during spring riding. We wore the Stryker in lots of different conditions from the bitter cold to the warm spring temps. It was very adaptable to all those conditions.
The Honcho Bibs also feature Gore-Tex along with ScottLoft insulation and seam tape, which prevents moisture from entering in anywhere where the garment is sewn. There are full-length side zippers and articulated knees (which we find more handy while kneeling on the seat than while sitting on the seat). There are plenty of outside pockets and the straps are easy to adjust for your individual height.
Cordura is used for the shell and for women riders, there's a zip-down seat.
Highmarks
When the temps sank we went for the Stryker Jacket and Honcho bibs. Aside from what we mention in the "Tumbles" section below about how we got a size too small, the jacket and bib provided needed warmth on several rides when the temps went to single digits above and below zero. We were glad we had the Stryker and Honcho.
And Gore-Tex flat out works and does everything it claims to do. It breathes while not allowing the cold and moisture in. We've found that to be a huge asset, especially when riding in the areas where there's any amount of humidity. Gore-Tex' Guaranteed to Keep You Dry promise is definitely fulfilled and might be one of the biggest advantages to the Stryker and Honcho gear.
We liked the zip out liner/jacket on the Stryker, allowing us to use the jacket in lots of different conditions from the dead of winter to spring riding.
Tumbles
Our only gripe was that we got the wrong size—essentially one size too small. We've found that, generally speaking, air can create another layer/barrier against the cold as well as be a space for the perspiration to escape. Tight-fitting clothes, at least when you're snowmobiling, don't allow those to things to happen. That was the case with the Scott Stryker Jacket, and to a smaller extent, the bibs as well. It's no fault of the clothing, but it did remind us why we like to wear clothing that's a little loose. Where the jacket and bibs were tight against our body, like the knees and thighs or chest, it was a tad nippy.
Again, it's no fault of the clothing but we would definitely go a size bigger next time.
We also like the freedom of movement with the looser-fitting clothing because we consider ourselves active riders, standing and sitting and generally moving all the time. That's a consideration when we look at sizing in our snowmobile outerwear.
Scott USA's winter apparel doesn't come cheap. The price might scare a few folks away but remember that you get what you pay for.
How To Get A Hold Of Scott USA Apparel
Log on to www.scottusa.com for a list of dealers where you can find Scott apparel or you can buy it online at the website. The Stryker retails for $389.99 while the Honcho bibs are $299.99.