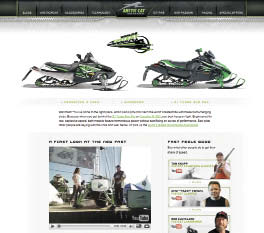 With speed enthusiasts in mind, Arctic Cat has launched a one-of-a-kind mini-site, www.worldsfastestsnowmobiles.com. As the first manufacturer with claimed evidence to prove the claim of the "World's Fastest Snowmobile," Arctic Cat has developed an interactive channel for fans and consumers to experience and discuss the company's newest innovations.
The World's Fastest Snowmobiles site is the social community for snowmobilers as an offshoot from Arctic Cat's home site. Most importantly, enthusiasts are able to share their reactions and comment on every aspect of the site on the wall of the main page.
"Performance is our passion at Arctic Cat," John Tranby, Arctic Cat's Marketing Communications Manager, said. "We've found that Arctic Cat enthusiasts yearn for an open community where they are able to talk and share their snowmobiling experiences and reactions all day long. Worldsfastestsnowmobiles.com is that place."
In addition, the site is loaded with photos, videos, sled features and links to other valuable snowmobiling resources. Users can easily navigate to featured YouTube videos, Cat's Facebook brand page and its World's Fastest Snowmobiles Flickr photostream.
For the second phase of the site, Arctic Cat fans can look forward to additional behind-the-scenes footage from winter's most exciting events including Haydays, as well as racer interviews and speed-focused video profiles.