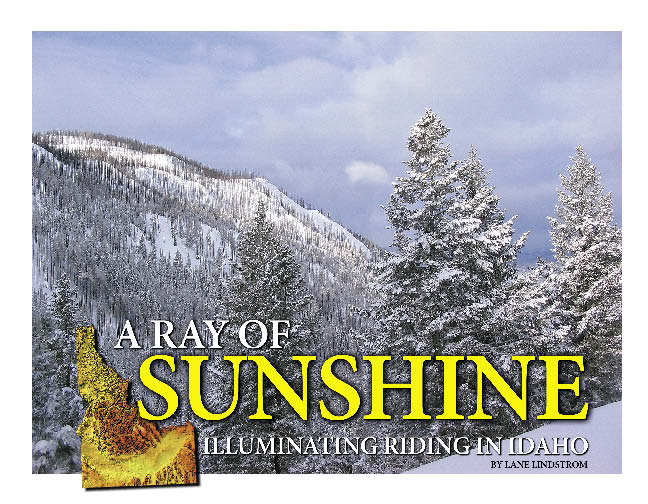 It wasn't just mostly cloudy for our three-day ride in west central Idaho—it snowed much of that time. During one part of the trip on day two, it was an all-out blizzard, close to what we envision Antarctica-like conditions would be like.
During one brief time, when the snow stopped and clouds lifted, allowing us to see the acres of untouched powder that stretched to the horizon, we were riding two-up sleds weighing roughly the same as a Buick. We were sorely tempted to dive off-trail, but held back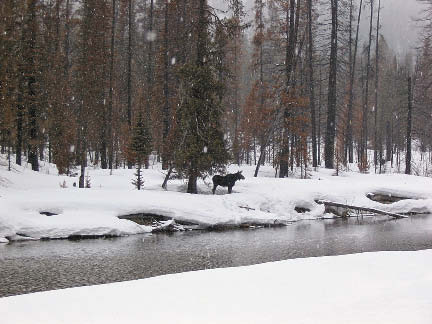 because we weren't sure how many friends we had to help dig us out.
We passed meadow after meadow and hillside after hillside buried deep under a blanket of snow that hadn't seen snowmobile tracks for days, maybe even weeks. And those were just the land features we could see. Most were hidden by the falling snow, powder-laden tree branches and general cloudiness.
For some, these are dismal snowmobiling conditions and many would have opted to wait until conditions improved.
Forging Ahead
Not us. We forged ahead, literally plowing through the deep snow on our sleds as we explored deep in the backcountry of one of most mountainous regions in Idaho.
Sure, the weather didn't exactly cooperate, but the snow conditions were phenomenal. And when the snow stopped, the clouds broke and rays of sunshine fell down across this winter landscape, we were stunned at what we saw—magnificent scenery and snow absolutely everywhere. And that's saying something as this was later in March and by that time, sun can start melting snow off the south-facing slopes. Not last March. It would be well into April before that happened in this part of Idaho.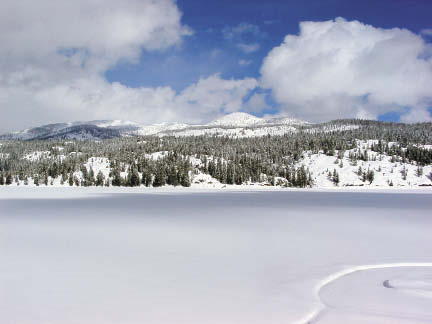 When the call came in to ask if we would like to participate in an Idaho Department of Parks and Recreation-sponsored three-day tour that would include snowmobiling in three different spots each of the three days, our answer was a quick yes.
The diversity of terrain and the amount of area we were going to cover during the three days alone was intriguing. The variety of what we were going to experience was also inviting and very appealing. It was a trip that can easily be replicated by any snowmobiler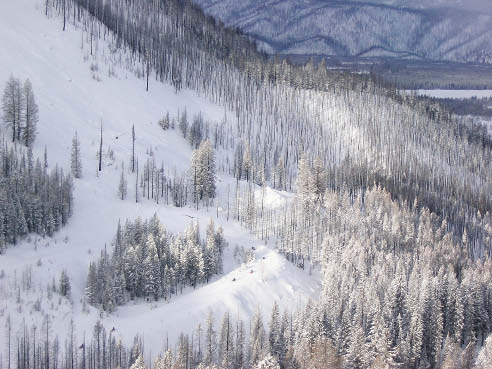 who seeks above-average adventure and is willing to take some roads less traveled.
Day one called for our group to trailer our sleds north and east of Cascade to the Warm Lake parking area, unload and ride to the remote (with a capital R) town of Yellow Pine. Stick to the groomed trail and it's a ride of about 25 miles. We mostly stuck to the trail for the ride but we managed to track up a couple of meadows and hillsides along the way. We stopped for lunch at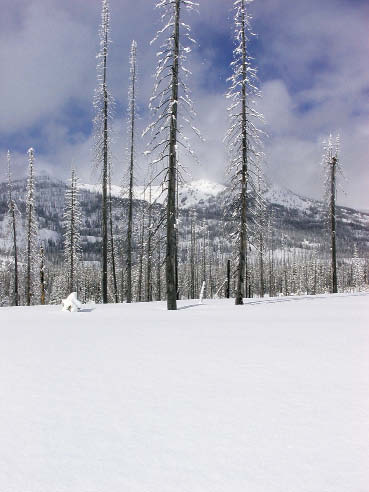 the Landmark Ranger Station, where there's a group of small cabins and other buildings dating back to CCC (Civilian Conservation Corps) days. It was near here that we found a few meadows to bust powder in, although we didn't have to leave the trail to find untouched snow. We broke trail in several inches of new snow on the groomed trail much of the way to Landmark as we crossed Warm Lake Summit. Trails lead off from Landmark into every direction of the compass and we explored a couple of them but were soon on our way north to Yellow Pine. The groomed trail we rode is one of just two roads to Yellow Pine, only one of which is open in the winter. That's the kind of remote we like. It was between Landmark and Yellow Pine that a rider in our group pointed out some wolf tracks that crossed the trail. The tracks were fairly fresh, as was the little bit of carnage that was all that was left from a wolf's meal.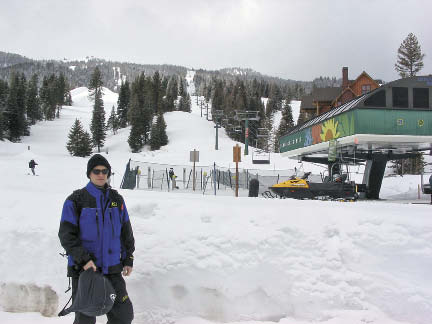 Yellow Pine was threatened by a massive forest fire in the summer of 2007 and made media headlines when some of its residents refused to leave. The town was spared and today it serves as a great base camp to explore the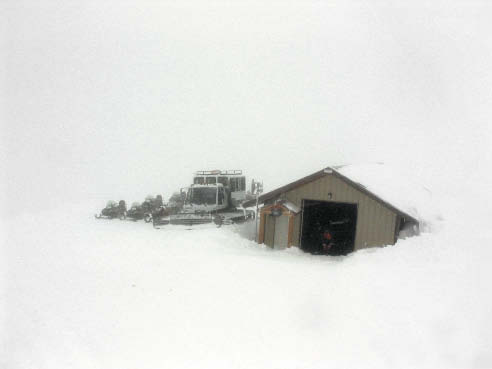 surrounding country.
This is what it looked like, standing at the base of Tamarack Resort before hopping on the Tamarack Express quad chairlift on our way up the mountain. This is during the ride up and the view once we got to the top of the 7,700-foot mountain. It was quite a change in the nearly 3,000 feet from bottom to top.
The World Around Us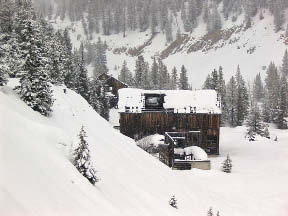 The clouds were hanging pretty low as we got to Yellow Pine so we didn't see that the town is completely surrounded by mountains, but that was quickly evident as we embarked on an afternoon ride to the east, toward the old mining town of Stibnite. The ungroomed trail (Stibnite Road) follows the East Fork and then the South Fork of the Salmon River through a narrow canyon with steep mountains on either side. There were a couple of small slides that had previously fallen across the road, but they weren't impassible. It's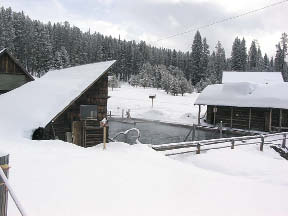 not until you get close to Stibnite and other mining locations several miles from Yellow Pine that the terrain opens up and you can get a feel for how big the country is here. We stopped at the edge of Monday Camp, a mining site where Tungsten and antimony were mined during World War II. Evidence is still visible today of some of the mining activity but as you go farther into the backcountry toward Stibnite you see huge mine tailings that remain from those earlier years. Some of the tailings create a nice hillclimbing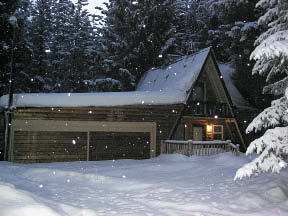 area while others appear to be a wide open meadow buried deep with a blanket of snow. You can't ride too much farther east before you come to the Frank Church River of No Return Wilderness, which, of course, is off limits to sledding.
We played on the tailings near Stibnite for a long while before heading back toward Sugar Creek, where a narrow road/trail splits off from the Stibnite Road and follows Sugar Creek towards the Cinnebar Mine. Cinnebar was our goal but heavy snowfall and deep snow proved to be too much for some of the sleds in our group and we eventually had to turn back. There was a lot of fun in trying, though.
Riding in this area is around 6,200 feet and a little higher, depending on where you go, and it's a steady descent back down to Yellow Pine, which sits at about 5,000 feet (depending on where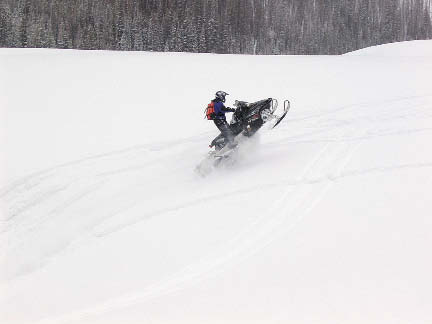 you are in town as it's very hilly). Average snowfall in town is about 110 inches but as we found out, as you climb out of town into the surrounding mountains, snowfall increases as quickly as the elevation. Yellow Pine is snowmobiler friendly, too, as sleds are allowed on city streets as long as you obey traffic laws.
We overnighted in Yellow Pine and then rode the same trail back to Warm Springs parking area but it was most decidedly different on the trip back. Several inches of snow had fallen the day before and overnight and we busted trail all the way back to the trucks. At a couple of spots along the way the sun even poked out from behind the clouds and glistened off the newly-fallen snow as well as on the surrounding mountains. It was impressive while it lasted.
A New Experience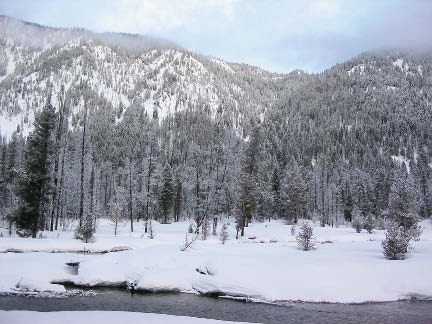 It snowed more than a half-foot overnight, pushing the snotel site east of Warm Lake on Deadwood Summit to read 114.9 inches of snow on the ground. That was March 15.
That afternoon we did something we never thought we would ever do on a snowmobile trip—rode a chairlift up the mountain to where snowmobiles were waiting for us to ride. How's that for diversity? We started the afternoon ride at the base of the mountain at Tamarack Resort, the first ski resort to open in the United States in more than two decades. Tamarack is located on the west shore of Lake Cascade, just west of Donnelly.
We took the Tamarack Express high speed quad from the base of the mountain (elevation 4,900 feet) to Packer's Station (6,600 feet), a gain of 1,700 feet in just eight minutes. We got off that ski lift, took a short walk over to the Summit Express and rode the rest of the way up the mountain, another 1,100 feet in 3.5 minutes.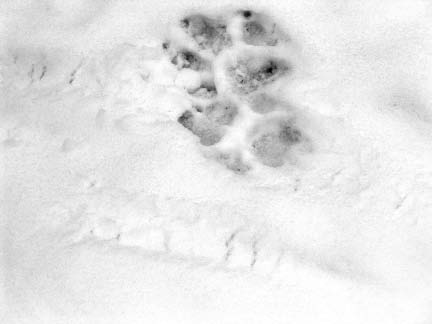 We got off the chairlift in Antarctica-like blizzard conditions and made our way to Tamarack's snowmobile rental shed, perched on the mountain like a radar tower. Tamarack operates its own snowmobile rental business and has access to more than 350 miles of groomed trails in the Payette River Mountains. It offers full- and half-day tours. Tamarack has quite a variety of rental sleds, most of which cater to the downhill skiing crowd. That means there are several two-up models and smaller models such as 500s. Our pony for the afternoon was an Arctic Cat T660 two-up sled, a turbo four-stroke. The T660 is a great trail sled, unless you encounter fairly deep snow on the trails like we did. We tried to dive off-trail a couple of times but thought better of it after the sled made like it was going to sink like the Titanic. So we made our own fun, picking which deep snow battles we thought we could win.
Tapering Off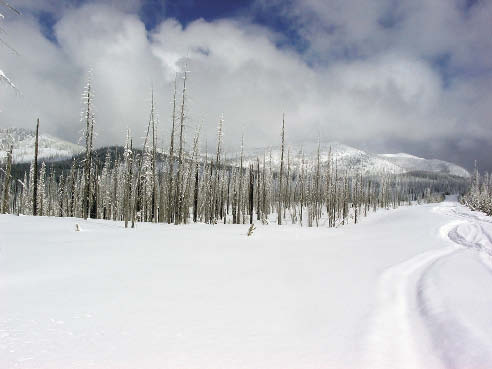 Soon after we dropped off the west side of the mountain from Tamarack, the blizzard-like conditions ceased but the snow still fell off and on. Part of our ride took us on the Red Ridge trail where the snow stopped for a little while and we could see the mountains to the West. We also passed by a small hot springs where we stopped for a rest.
Once back at the top of Tamarack Resort, we followed our guides down the ski hill—on one of the ski runs—to the base of the resort. Before our descent, the weather had cleared and we got some great views of the valley below, including Lake Cascade. It wasn't only one of the best views from our three days of riding, it was one of our only sweeping views of the surrounding mountains.
We thought we had passed, much to our dismay, so much untouched powder on days one and two there couldn't be that much fluff anywhere else.
Enter day three. We spent all day busting trail on day three—and that was just getting to the parking area on Warren Wagon Road. The snow was a couple feet deep on the road getting to the parking area and then at least that deep on the trails all day thereafter. What spring riding conditions? It was powder everywhere.
A Nice Soak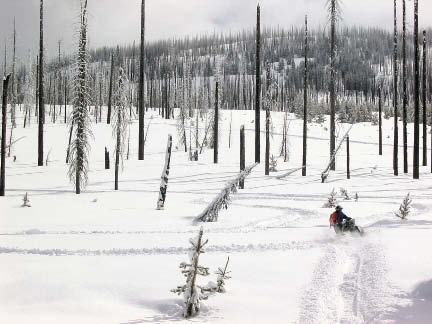 The destination for day three was Burgdorf Hot Springs, a worthy goal any day but especially this day when we worked hard busting powder. It was a day where the powder flowed over the hood and snow was still falling. We had sun for about a half hour and a small portion of us broke off from the main group and tracked up a hillside (across from Upper Payette Lake) and then later a meadow that helped soothe any hard feelings we had about missing all the powder we passed the previous two days.
We arrived at Burgdorf Hot Springs, another one of those famous Idaho landmarks, where we soaked in the outside hot springs before it was time to head back to the trucks. Burgdorf is somewhat rustic but that is what is so appealing about the place. It's a nice contrast to the glitz and glamour of so much of what is new today. There is a larger pool and a smaller (and warmer) one at Burgdorf, as well as a small store with some goodies. The only access in winter is by snowmobile.
If you were to continue up the Warren Wagon Road there is gas, food and lodging in Warren.
Three days of roads less traveled and snow tracked up (when and where we could) reminded us how good the snowmobiling is in this part of Idaho. We rode and played mostly in places with less snowmobile traffic compared to the more popular spots in this slice of Idaho and were glad we did. The variety of riding was impressive and the powder insane.
And then, when the snow stopped, the storm clouds lifted and parted and rays of sunshine came raining down on us, we knew right away these are the snow days we look forward to all year long.
To us, the conditions were just right.
McCall, Yellow Pine, Donnelly, Cascade
Elevation 4,800-8,000 feet
Snowfall 140-250 inches
Miles of Groomed Trails 800 (McCall, Cascade systems combined)
Full Service Town Cascade, Yellow Pine, Donnelly, McCall, Cascade
Nearest Airport Boise (78 miles from Cascade)
Getting Started Cascade Chamber of Commerce (208) 382-3833, McCall Area Chamber of Commerce (800) 260-5130, Tamarack Resort (877) TAM-RESORT, Yellow Pine information (208) 633-3300
Getting There The snowmobiling areas are all accessed from Idaho Highway 55, one of the most scenic routes in the entire state. The Warm Lake parking area is 26 miles east of Cascade. Tamarack Resort is west of Donnelly, which is 16 miles north of Cascade on Highway 55. McCall is another 13 miles north of Donnelly.
Getting Around There are snowmobile rentals available in the valley. Contact the respective chambers of commerce to find which businesses offer the service. Contact Tamarack Resort for snowmobile rentals there.
Bedding Down In Cascade, we stayed at the Ashley Inn ((866-382-5621), one of our favorites. The inn caters to snowmobilers and offers a very decent breakfast bar, indoor pool and fireplaces in most rooms. If you want to be pampered, this is your place. In Yellow Pine, we stayed at the Alpine Village Lodge (208-385-0271), which features a big lodge and three cabins with electricity and running water. The lodge is big, but very cozy, as are the cabins, and you can park your snowmobiles right at the lodge. From there it is a quick ride to the backcountry. There are also other lodging options in Cascade, Donnelly, McCall and at Tamarack.
Eating Out There are plenty of dining establishments in Cascade and McCall. In Yellow Pine, we had a great meal at the Silver Dollar Grill. After our afternoon ride at Tamarack, we had supper at the Seven Devils Pub at the resort. The Seven Devils offers a full pub and dining menu and the food was very good.