Snowmobiling in the West really boils down to one thing: mountains.
While that may sound simplistic, it's those mountains that draw snowmobilers from all over the snowbelt to ride in the West.
It's what the mountains represent that gets people all excited for that snowmobiling trip. Mountains collect a lot of snow from passing storms, kind of like a wall stopping the snow as it tries to cross over the top. It's not uncommon for many places in the western United States and Canada to get upwards of 500 inches of snow every winter. Some places get less, some more. That's a heck of a lot of snow.
Then there's the challenging terrain, which comes in every size and shape you can imagine if you're a snowmobiler. Some terrain is horizontal but most is vertical and that is exhilarating. You can ride to a ridgetop or saddle and sit there and take in some of the most impressive scenery you've ever seen—summer or winter. And if you're not afraid of heights, the West is where you'll want to be. You can ride up to 12,000 feet in some places.
But there's more, much more. You can see active volcanoes. You can ride in powder so deep you'll be gasping for air. You'll learn firsthand what it means to ride in champagne powder. You can glide along thousands of miles of trails. You can ride within viewing distance of the ocean. You can ride to places in the mountains it would take you literally days to hike to in the summer, allowing you to see places not many get to see. You can ride in world-famous Yellowstone National Park. Or Crater Lake National Park. Or Grand Teton National Park. Or even Mt. Rainier National Park.
We think you get the picture.
For some, snowmobiling in the West is a once-in-a-lifetime opportunity that will carry memories for years to come.
For those lucky enough to live here in the West, we sometimes have to pinch ourselves to remember how fortunate we are to have all this in our backyard.
We have yet to run out of places to snowmobile, although we'll admit we work on riding and exploring new places every winter. It's a challenge we relish.
The following pages will give you a taste of what the West has to offer. In our exclusive SnoWest Travel Guide you'll learn about many of the West's hotspots for snowmobiling, broken down in each state and provincial section.
This is not all-inclusive, but it does cover quite a bit of territory. For what we believe is the most comprehensive guide to snowmobiling in the West, we encourage you to pick up a copy of SnoWest Magazine's Western Guide to Snowmobiling, which comes out early this winter.
The guide in this issue, along with the Western Guide are the result of hours, days, months and even years of research into riding in the West. Dare we say it's a mountain of information?
Quite honestly, it's a job we really enjoy.
We hope you enjoy reading about all the various places you can ride in the West.
Happy sledding.
Alaska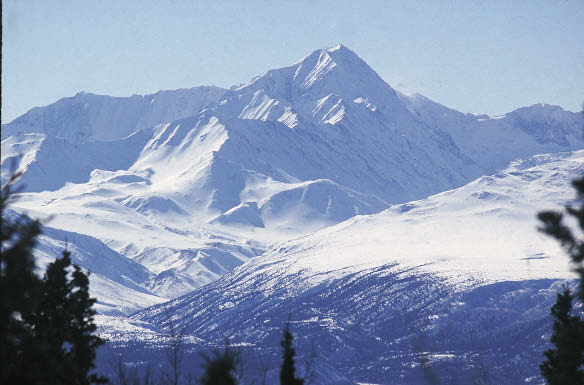 If you love to snowmobile how can you go wrong in a state that is covered with snow several months of the year?
Check, that. How can you go wrong in a place like Alaska, which is about two and a half times the size of Texas? And covered in snow for several months of the year (year-round in some places)?
You can't.
We've snowmobiled in Alaska and were amazed at the diversity of everything. The scenery is unbelievable. The terrain (how many times have you ridden on a glacier that is miles long?) is everything a snowmobiler could ask for. There are no crowds. The Northern Lights are incredible. There is more snow than you can imagine.
Snowmobiling in Alaska is an amazing experience.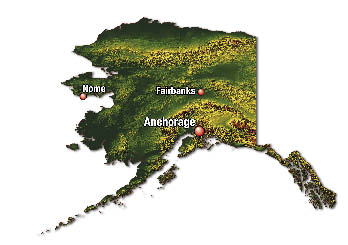 Few places in North America have the mountains and ranges you'll find so far north and so close to the ocean as are found in Alaska. And there aren't many places where you can sled right from sea level (practically from the ocean's edge) and shoot up several thousand feet into the mountains.
There are places in Alaska with small, developed trail systems as well as locations that attract more snowmachiners than others, but it's still pretty wide open with sometimes your only limits being the amount of gas you can carry and your reliability on a GPS.
The sport continues to evolve in Alaska, with some folks working on developing more extensive groomed trail systems in various areas, mostly near Anchorage. With or without trails and extensive trail systems, sledding is just minutes from Anchorage, Alaska's largest city. Okay, sledding is minutes from anywhere in Alaska, but don't be afraid to explore areas farther away from Anchorage, including up north near Fairbanks and to the southeast by Valdez or the Kenai Peninsula or farther east near Tok. Actually, the list of locations just goes on and on.
Because Alaska is so big, it's a good idea to take a guide or local who knows the area along on your snowmobiling trek. The Alaska State Snowmobile Association is a good place to start if you're looking for a riding buddy.
Guide
Travel Alaska—www.travelalaska.com
Road Conditions—866-282-7577
Alaska State Snowmobile Association—www.aksnow.org
Number of Registered Snowmobiles—55,246
Highest Point—Mount McKinley (20,320 ft)
Greatest Average Annual Snowfall—Thompson Pass 551.5 in.
Record Winter Snowfall—Thompson Pass 974.5 in.
Coldest Recorded Temperature—Prospect Creek Camp -80°F
Arizona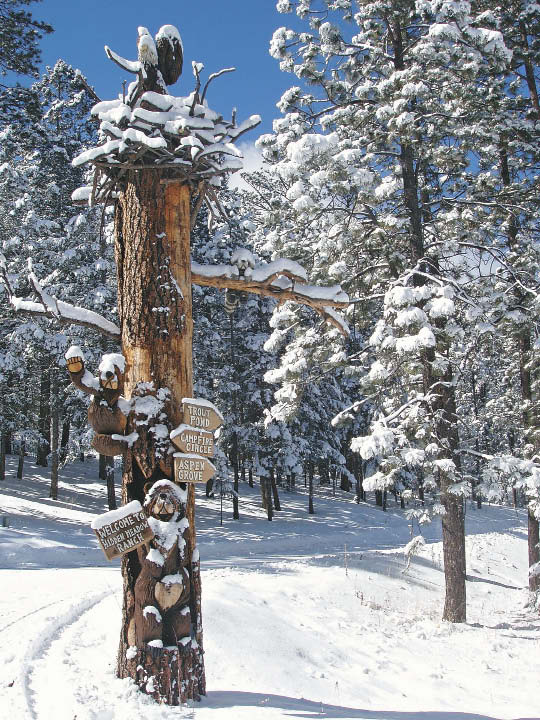 Yes, you can snowmobile in Arizona. Come on now, no snickering. It's true.
In fact, Arizona has put together a couple of good snow seasons the past two winters, exciting everyone in the state who enjoys winter as much in the mountains as they do in the deserts.
It's no secret that thousands of "sun birds" flock to Arizona every winter to revel in the warm desert sun, but it might be somewhat of a secret that there is a dedicated group of winter enthusiasts who leave those same desert climes and head for the high country where several feet of snow fall each winter.
Those winter enthusiasts won't find any groomed trails but they are content with thousands of acres of national forest land and hundreds of miles of forest roads that cover the state's mountainous regions. Snow falls on mountains that dissect Arizona from northwest to southeast. This swath of mountains is about 250 miles or so from one end to the other.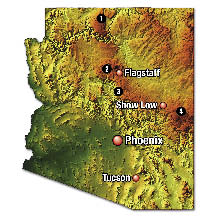 Generally speaking, you can snowmobile near Jacob Lake, located between the northern rim of the Grand Canyon and the Arizona/Utah border, as well as near Flagstaff. Two places worth noting near Flagstaff are the Kendrick Snowmobile System and Mormon Lake. Heading further southeast in the line of mountains, next comes the area around Payson. Next comes the White Mountains, located in the east-central part of the state. It's in the section of the state where you'll find Arizona's tallest mountains and hence, the most snow.
The average snowfall each winter in most areas of Arizona where you can snowmobile is about 100 inches. Of course, snowfall depends on the elevation. Some places get less, many get a lot more.
The Grand Canyon state may not be a snowmobile destination like many other western states, but if you happen to be there in the winter and need to get out of the heat, snowmobiling is a real option.
Guide
Arizona Office of Tourism—www.arizonaguide.com
Road Conditions—888-411-ROAD
Groomed Trails—None
Highest Point—Humphrey Peak (12,633 ft)
Greatest Average Annual Snowfall—Sunrise Mountain 243 in.
Record Winter Snowfall—Sunrise Mountain 400.9 in.
Coldest Recorded Temperature—Hawley Lake -40° F
California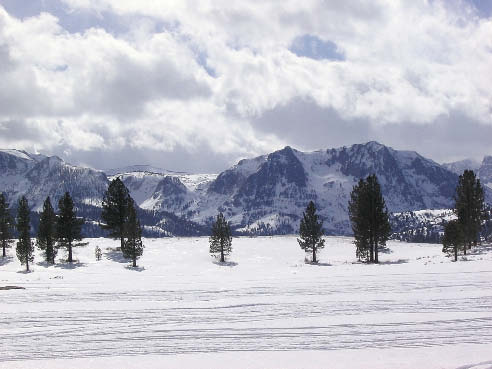 Sunny beaches. Towering Redwood trees. Ghirardelli chocolates. Disneyland. Sea World. The Beach Boys. Practically perfect weather. Yosemite. Hollywood. The LA Dodgers. Mt. Shasta. Would you dare list snowmobiling in with all those world-famous California attractions? We would. And that's because the snowmobiling in California is every bit as good as anywhere you'll find in the West.
There are dozens of riding areas scattered all up and down the spine—commonly referred to as the Sierra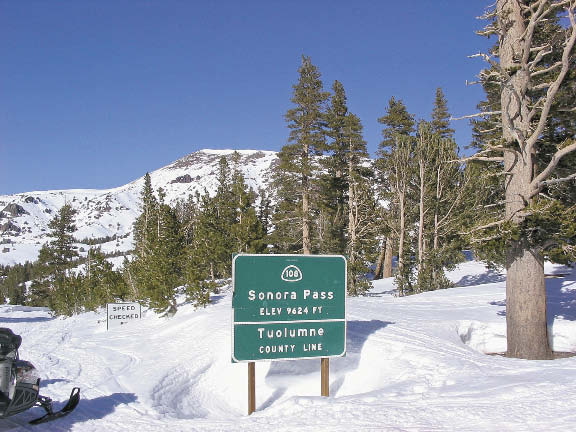 Nevada Mountains—of California. That includes up near the California/Oregon border clear down to the Angeles and Los Padres national forests near Los Angeles (riding is just about 70 miles from the ocean).
Sun worshippers flock to California for the seemingly endless rays that beat down on the state, but winter enthusiasts know the Golden State gets its fair share of snow, too. It's not uncommon for the Sierra Nevadas to get a four or five (or more) foot dumping of snow in one storm. All those storms continue to pile up the white stuff to the tune of 20 or more feet every winter.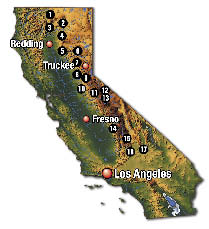 A good website to check out for snowmobiling is the California OHV site—http://ohv.parks.ca.gov—which gives information on the sno-parks. Of course, you're not limited to using sno parks to gain access to California's backcountry.
Because California is such a popular tourist destination, it's an easy place to get to, regardless of your mode of transportation. An extensive road system allows sledders quick and easy access to the riding areas on both sides of the Sierra Nevadas.
Guide
California Tourism—www.visitcalifornia.com
Road Conditions—800-427-7623
California-Nevada Snowmobile Association—www.cnsa.net
Groomed Trails—2,500 miles
Number of Registered Snowmobiles—22,882
Highest Point—Mount Whitney (14,494 ft)
Greatest Average Annual Snowfall—Soda Springs 470.7 in.
Record Winter Snowfall—Tamarack 884 in.
Coldest Recorded Temperature—Boca -45°F
Colorado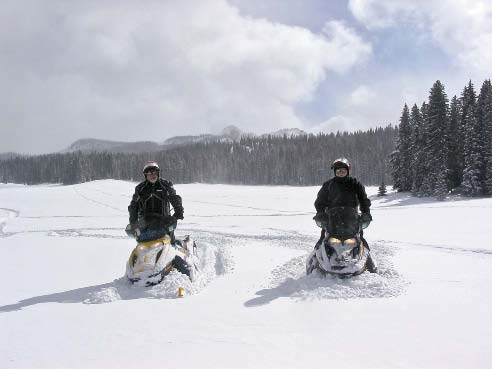 "Eight Thousand Feet Above Average."
That marketing line from the Buena Vista (CO) Chamber of Commerce very accurately describes snowmobiling in all of Colorado.
At least it's a good starting point because that's just about the starting elevation for snowmobiling anywhere in the state. Everything goes up from there.
And that lends credence to John Denver's "Colorado Rocky Mountain high" line in his famous song "Rocky Mountain High." We've sledded in several places in Colorado and it certainly is a high, figuratively and literally.
Aside from the awesome powder that coats the Rocky Mountains, the views from up at those elevations are absolutely stunning. In many places, mountain peaks surround you in every direction.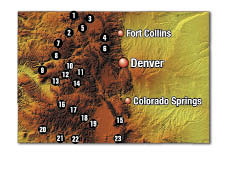 After all, Colorado has the distinction of having the highest average elevation of any state in America—6,800 feet, which is higher than many states' tallest mountains. Colorado's average elevation is thanks to what it calls its Fourteeners, many of which are stretched out along the Continental Divide. Colorado is home to more Fourteeners than any other state in the West. What are Fourteeners? Those are mountains which are 14,000 feet or higher. And Colorado has 58 mountain peaks that stretch more than 14,000 feet into the sky, led by Mt. Elbert at 14,433 feet. The biggest cluster of 14ers is in the center of the state, with another bunch in the southwest and a smaller set in southcentral Colorado.
Those kinds of lofty mountains tend to collect a lot of snow. And that includes last winter when we had two of the best rides we had all season in Colorado. Powder was flowing over the hood and was so deep we got stuck in the flat meadows on occasion—smiling all the while.
In addition to the many established riding areas listed below, you can log on to www.blm.gov/co/st/en.html to learn more about snowmobiling on BLM lands.
The state snowmobile association's website (www.coloradosledcity.com) is an excellent source of information.
Guide
Colorado Travel—www.colorado.com
Road Conditions—303-639-1111
Colorado Snowmobile Association—www.coloradosledcity.com
Groomed Trails—2,600 miles
Number of Registered Snowmobiles—33,550
Highest Point—Mount Elbert (14,433 ft)
Greatest Average Annual Snowfall—Wolf Creek 434.8 in.
Record Winter Snowfall—Wolf Creek Pass 807 in.
Coldest Recorded Temperature—Maybell -61°F
Popular Services
Grand Lake Area—(800) 531-1019
Grand Mesa Lodge—(800) 551-6372
Rocky Mountain Lodge—(888) 298-0348
Steamboat Lake Outfitters—(800) 342-1889
Idaho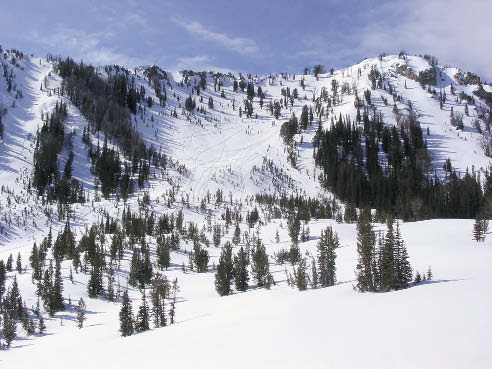 There are few (if any) places in the state of Idaho where you can stand, look in any direction and not see mountains.
That's a significant fact, especially if you're a snowmobiler who loves (or even likes) to ride in the mountains. There are mountains everywhere.
What's even more significant is that those mountains get at least 75 inches of snow every winter. And that's on the bottom end of the scale. Many places get more—a lot more, like to the tune of upwards of 500 inches.
Those kinds of numbers can almost cause a snowmobiler to pass out with anticipation and excitement.
Another interesting twist to the mountain scene in Idaho is that those mountains range from 1,000-10,000 feet and higher in elevation. That's quite a range of riding. The lower elevations are mostly in northern Idaho with the taller ranges farther south and along the Continental Divide that marks the boundary between Idaho and Montana. Don't think that the 1,000-5,000 foot numbers are any less challenging or fun to ride than the higher elevations. The climbing and backcountry riding is every bit as challenging up north as it is anywhere in the state. You may still have 3-5,000-foot elevation gains, it's just that you're starting at a lower elevation.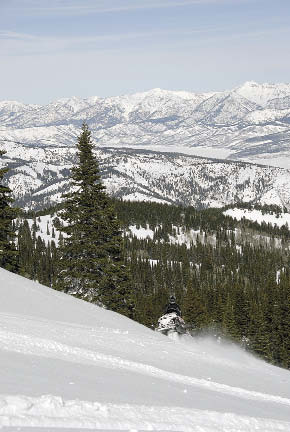 The mountains along with all that snow mean you can snowmobile just about anywhere and everywhere in the state. There are a few exceptions, like the really low-lying areas and Wilderness areas. Other than that, the state is snowmobiler-friendly and an absolutely tremendous place to ride.
Your biggest challenge will be to decide where to ride. Good luck on that one.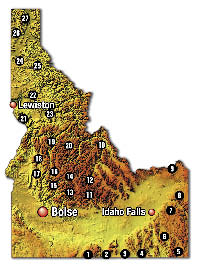 Just to make it a little more difficult to choose, you might want to look at the riding in the Owyhee Mountains in southwest Idaho or the Seven Devils in western Idaho or the Mount Bennett Hills in the southcentral part of the state or Sheep Creek, in eastern Idaho. Those areas aren't included in the detailed information in the chart below but are great rides. Each area offers its own unique riding terrain but none are as crowded as other more popular spots in the state.
Idaho has a decent website dedicated to snowmobiling. Check out www.idahowinter.org.
Guide
Idaho Travel Council­—www.visitid.org
Road Conditions—888-IDA-ROAD
Idaho State Snowmobile Association—www.idahosnowbiz.com
Groomed Trails—5,600 miles
Number of Registered Snowmobiles—52,212
Highest Point—Borah Peak (12,662 ft)
Greatest Average Annual Snowfall—Mullan Pass 283.5 in.
Record Winter Snowfall—Roland West Portal 441.8 in.
Coldest Recorded Temperature—Island Park -60° F
Popular Services
Ashley Inn—(208) 382-3833
Mountain Village Resort—(208) 774-3661
The Pines at Island Park—(208) 558-0192
Montana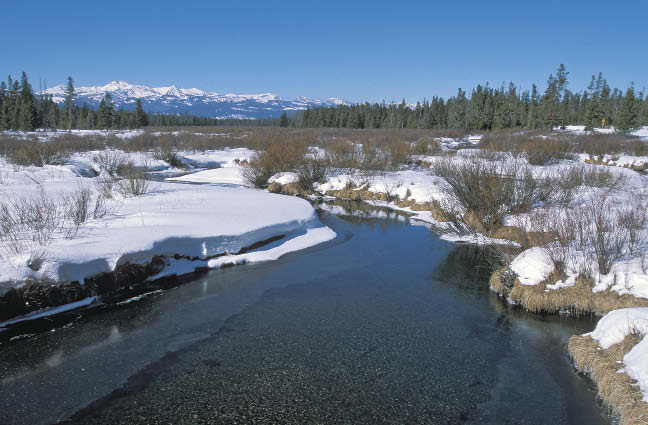 If there's a place that fits the description of "Big as all outdoors," we'd say it's Montana.
You could take that literally because Montana is a big place geographically-speaking but we like to interpret (or better yet, view) that as being wide open and majestic in all things to do with the great outdoors.
Montana is indeed an outdoor paradise. Yea, it's a nice place in the summer, but it's Outdoor Paradise with a capital O and P in the winter.
Mountain range after mountain range dominate the western third of Montana, most all of which are part of the famous Rocky Mountains. That's also where a majority of snowmobiling takes place because that's where nearly all of the developed trail systems as well as the biggest mountains are. Ranges including the Swan, Gravelly, Bitterroot, Big Belt, Purcell, Absaroka, Madison, Pioneer and more provide some of the best snowmobiling available anywhere in the West.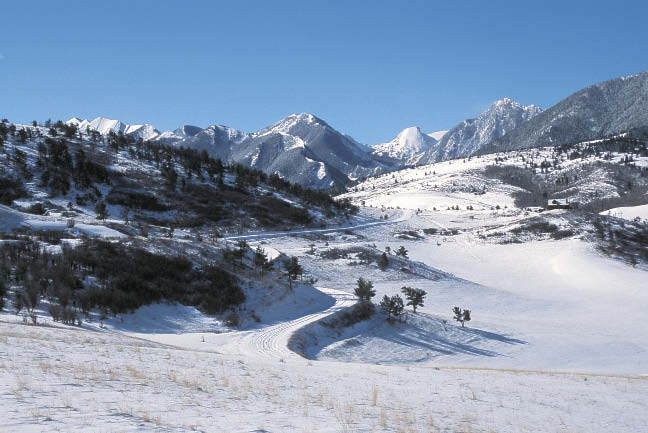 Several of those mountain ranges (Bitterroot and Coeur d'Alene) separate Montana from Idaho, including the Continental Divide/Rocky Mountains, which form the boundary between the two states in southwest Montana before heading into Big Sky Country at the Lost Trail Pass. Still smaller mountain ranges—such as the Big and Little Belts—create islands of riding in the state, which is known across the snowbelt for its abundant dry powder.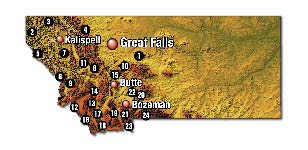 Montana has two dozen well-defined riding areas where trails are groomed—3,500 miles in all—but that doesn't include all the backcountry areas where there is no grooming. The trail systems are scattered all over the western part of Montana, from its border with Canada south to its border with Idaho and Wyoming.
Riding in Montana will take you past places rich in history, mining towns, awesome scenery, spectacular mountain ranges, scenic lakes and rivers, pristine backcountry areas and impeccable trails. Diversity is a key trait of sledding in Big Sky Country. You should easily be able to find a kind of riding to your liking.
The state of Montana does a good job of promoting snowmobiling and other winter sports. In addition to the state's tourism website (www.visitmt.com) try www.wintermt.com.
Guide
Travel Montana—www.visitmt.com
Road Conditions—800-226-7623
Montana Snowmobile Association—www.snowtana.com
Groomed Trails—3,500
Number of Registered Snowmobiles—39,531
Highest Point—Granite Peak (12,799 ft)
Greatest Average Annual Snowfall—Kings Hill 305.5 in.
Record Winter Snowfall—Kings Hill 426.0 in.
Coldest Recorded Temperature—Rogers Pass -70°F
Popular Services
All Yellowstone Sports—(406) 646-9332
Comfort Inn—(406) 646-4212
High Mark Rentals—(406) 646-7586
Yellowstone Tour and Travel—(406) 646-9310
Nevada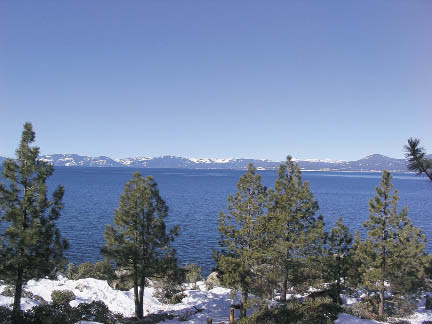 Snowmobiling in Nevada isn't the secret it once was.
How do we know that? For one, parts of the state, specifically Elko and Lake Tahoe, actively promote snowmobiling in their areas. Second, on a drive through the state last winter we crossed one pass on Interstate 80 in a remote section and noticed dozens of sled tracks leading off into the distance. Now that was near a stretch of the interstate that wasn't very close to civilization. Yet there was someone out there having fun on sleds.
Snowmobilers continue to discover what makes Nevada such a great place to ride—lots of snow, challenging mountains and hills and no crowds.
Of course, there aren't any groomed trails in Nevada, but for those looking for wide open spaces, that's not a high priority.
Snows are wet, dense and deep as they enter Nevada on the Sierra Nevada side around Lake Tahoe but dry out as they cross the state. According to the government, Nevada is the most mountainous state in the country, with more than 300 individual mountain ranges and 42 named summits over 11,000 feet. We're wondering why it's taken so long for sledders to discover the snowmobiling opportunities offered here.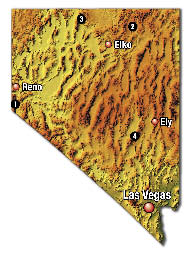 Since there are not groomed trail systems in Nevada, snowmobiling isn't really limited or confined to this area or that. However, some spots, like the aforementioned Lake Tahoe (where there are several rentals and guides available) and Elko, can loosely be considered a couple of the hot spots because they're close to town and offer great snowmobiling nearby. You can also ride near Ely and in the Toiyabe Range near Austin.
Because there are no well-defined riding areas in the state, it takes a little work and research, but you can find places to ride, like the one we came across on our drive along Interstate 80. Obviously those sledders found a spot they liked, unloaded and headed out.
That's what snowmobiling in Nevada is all about—discovering your own private riding areas.
Guide
Nevada Commission on Tourism—www.travelnevada.com
Road Conditions—877-687-6237
California-Nevada Snowmobile Association—www.cnsa.net
Groomed Trails—None
Highest Point—Boundary Peak (13,140 ft)
Greatest Average Annual Snowfall—Daggett Pass 123.1 in.
Record Winter Snowfall—Mt. Rose Resort 323 inches
Coldest Recorded Temperature—San Jacinto -50°F
Oregon
We're not meteorologists but we think Portland, Oregon's average rainfall of 37.5 inches is a lot of rain. Go down Interstate 5 south and check any number of towns along there and the numbers are equally as impressive, such as Roseburg's 33.6 inches.
So what does that have to do with snowmobiling? Simple: as those storm clouds move farther inland to the east, they hit the Cascade Range and turn to snow.
Lots of snow.
Roseburg is almost due west of Crater Lake National Park, which gets an average of 529.5 inches of snow every winter. Back up near Portland—due east about 55 or so miles is Government Camp, which tallies 275 inches of snow each winter.
That is a lot of snow. And that makes for great snowmobiling in Oregon.
Varying amounts of snow fall all across the Cascades, which run from the southern Oregon border to the northern border, making for great riding just about anywhere. Snow storms are wetter in the West as they come inland and dry out more as they cross the state, falling as light, dry powder over in places like the Blue and Wallowa mountains.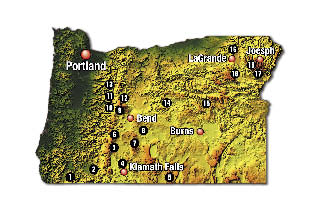 Not only are the Cascades, Blues, Ochocos and Wallowas great places to ride in Oregon, there are a couple of national treasures that the state can boast of as open to snowmobiling. One is Crater Lake National Park, a don't-miss area. You can ride to the edge of Crater Lake and see one of the most beautiful sites in the West. Snowmobiling is also allowed in Newberry National Volcanic Monument, another Oregon treasure, located in the central part of the state. Of course, snowmobiling in the shadows of Mt. Hood isn't something most sledders get to do everyday. At 11,239 feet, Mt. Hood is the tallest peak in the state and can be seen for miles around.
On the other side of the state, in the Wallowas, you can look down into the depths of Hells Canyon from a couple of vantage points on the Oregon side, the McGraw Lookout and Hells Canyon Overlook. It's very impressive how deep the canyon is.
Don't think western Oregon gets all the snow. Many places in eastern Oregon top 100 inches of snow every winter.
The Oregon State Snowmobile Association has gone to a lot of work to get its trail maps onto its website (www.oregonsnow.org) and going there will provide you with needed information before heading out to ride. Each map details where trailheads and parking areas are, as well as key highways to access the riding areas.
Guide
Oregon Tourism Commission—www.traveloregon.com
Road Conditions—800-977-6368 (inside Oregon); 503-588-2941 (outside Oregon)
Oregon State Snowmobile Association—www.oregonsnow.org
Groomed Trails—6,410
Number of Registered Snowmobiles—17,900
Highest Point—Mount Hood (11,239 ft)
Greatest Average Annual Snowfall—Crater Lake 529.9 in.
Record Winter Snowfall—Crater Lake 835.5 in.
Coldest Recorded Temperature—Seneca -54°F
Utah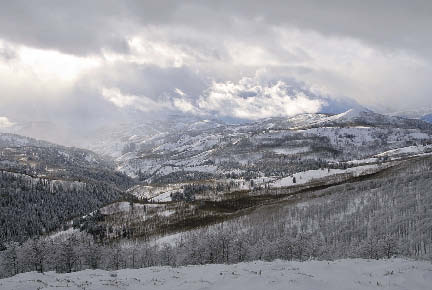 Utah is a state that boasts a palate of stunning colors, especially those hues found in the national parks and mountains in the central and southern parts of the state.
Yet the most celebrated color of all is plain ol' white.
Celebrated as in "The Greatest Snow On Earth," which has been Utah's theme for years and years. And for good reason.
You can find varying amounts of snow (upwards of 500-plus inches just minutes from Salt Lake City in the nearby mountains) all across Utah as the state's snowbelt stretches from the Utah/Idaho border in the north nearly all the way (within 40 miles) to the Arizona/Utah border in the south. The western edge is about the only place in the state where snowmobilers might turn up their noses—and that's only because when they look to the east, there are mountains galore, including the Wasatch Range and High Uintas.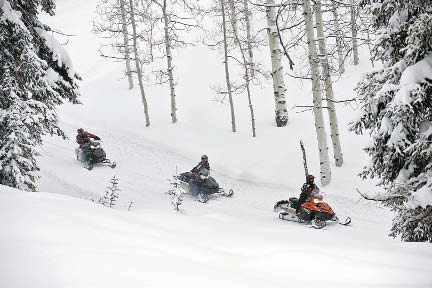 Most mountain ranges run north and south through Utah and can be accessed by nearly 1,200 miles of state-groomed trails. Riding starts out at about 6,000 feet and tops out between 12,000-13,000 feet.
The State of Utah has labeled its riding areas complexes and there are nine separate systems to explore in the state. Those complexes include (starting in the north): Hardware Ranch/Monte Cristo/Logan Canyon or Cache Valley; Mirror Lake/Currant Creek; Uinta Basin; Wasatch Mountain State Park; Strawberry; Skyline Drive; Ephraim/Manti/Joe's Valley/Ferron; Fishlake; and Cedar Mountain/East Fork (also known as Duck Creek).
As with many other states in the West, the groomed trail systems serve as an excellent way to get to the backcountry where you can ride off trail in all kinds of challenging terrain and amongst beautiful scenery.
Some of the most stunning scenery comes when the white snow sits on the colorful mountains and rocks in central and southern Utah. It is a contrast you just don't find anywhere else.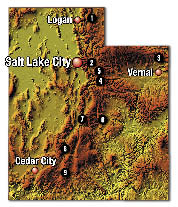 One nice perk of riding the Duck Creek area is that you can sled (stay on the road) through Cedar Breaks National Monument. Cedar Breaks is a smaller national park (about 6,154 acres and only about six miles across), but is famous for its huge natural amphitheater which extends 2,000 feet deep and over three miles in diameter. There is one trail available for snowmobilers. The ungroomed snowmobile trails follow highways 148 and 143 through the monument. On the way to the monument, snowmobilers will pass the impressive Point Supreme (10,350 feet).
The snowmobile program in Utah is well organized and well run.
And that just adds to the snowmobiling experience.
Guide
Utah Travel Council—www.Utah.com
Road Conditions—866-511-8824
Utah Snowmobile Association—www.snowut.com
Groomed Trails—1,200 miles
Number of Registered Snowmobiles—30,781
Highest Point—Kings Peak (13,528 ft)
Greatest Average Annual Snowfall—Alta 516.3 in.
Record Winter Snowfall—Alta 846.8 in.
Coldest Recorded Temperature—Peter's Sink -69°F
Popular Services
Beaver Creek Lodge—(435) 753-1076
Washington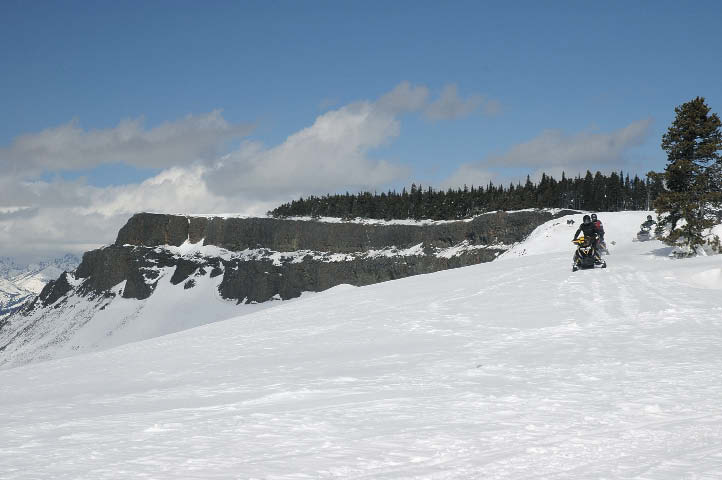 If most of us had the chance to see where half a mountain was blown away during a violent volcanic eruption (Mt. St. Helens) in 1980, we would do it. Or if we could see the steam venting out of an active volcano (Mount Baker—10,781 feet) most of us wouldn't hesitate. Or if we could ride in the shadow of Washington state's tallest peak, Mt. Rainier (14,411 feet), we would jump at the chance.
Many consider those opportunities as a chance of a lifetime—especially if you could do it from the seat of a snowmobile.
That's just part of what Washington state has to offer when it comes to snowmobiling. And if that kind of thing doesn't interest you, then there are 3,000 miles of groomed trails and hundreds more ungroomed paths that take you into and past some of the most beautiful scenery anywhere in the Pacific Northwest.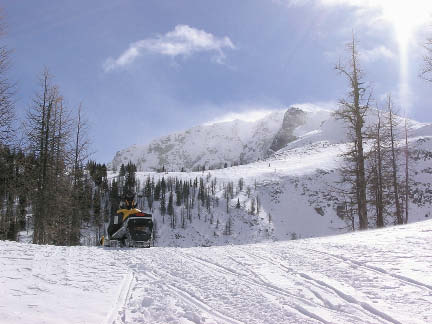 Washington state offers as much riding variety as you'll find anywhere in the West. It can be as tough or as easy as you'd like. But then you throw in the unique features you'll find only in Washington and that makes the state a destination of epic proportions.
We've had the chance to see the steam plume rising from Mt. Baker and we've ridden so close to Mt. Rainier (including inside Mt. Rainier National Park last winter, which is legal in some parts of the park) that it feels like you could reach out and touch it. Mt. St. Helens is on our short list.
From just one vantage point during one of our rides (near Yakima) in Washington, we were able to see Mt. Rainier (14,411), Mt. Adams (12,276), Mt. St. Helens (8,366) and Old Snowy Mtn. (7,930 feet). We could also see Mt. Hood (11,239) in Oregon. It was during that ride that Mt. St. Helens was a bit agitated and we could see periodic vents of steam rising from the mountain's crater.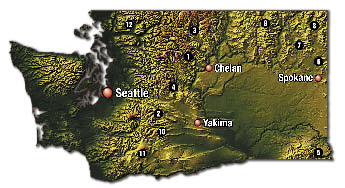 With all that drama, we haven't even mentioned the snow yet. During a normal snow year, seven of the top 14 spots in the United States with more than 400 inches of snow a year can be found within the borders of the Evergreen State. Rainier Paradise Ranger Station leads the way with 674.2 inches of snow each year, followed by Stevens Pass (493.2 inches), Santiam Pass (453.3), Snoqualmie Pass (439.9) and Stampede Pass (438.7). Do the math and that's between 36 and 56 feet of snow.
Much like Oregon and California, the snow is wet and heavy as it enters the state from the West, drying out a bit as it crosses over the Cascade Range on its march toward Idaho.
A pretty good source of information for riding in Washington state is on the state's parks website www.parks.wa.gov/winter and then navigate to the sno parks section where you'll find trail maps.
Guide
Washington State Tourism—www.tourism.wa.gov
Road Conditions—800-695-ROAD
Washington State Snowmobile Association—www.wssa.us
Groomed Trails—3,000
Number of Registered Snowmobiles—35,362
Highest Point—Mount Rainier (14,411 ft)
Greatest Average Annual Snowfall—Rainier Ranger Station 674.2 in.
Record Winter Snowfall—Mt. Baker 1,140 in.
Coldest Recorded Temperature—Mazama and Winthrop -48°F
Wyoming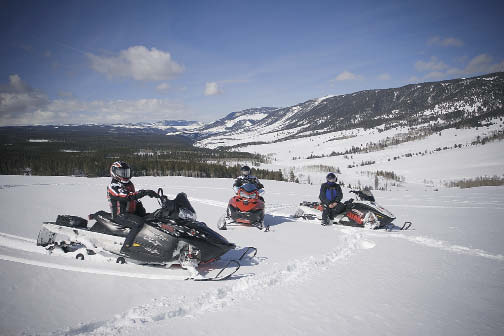 When you've got famous places like Yellowstone National Park and Grand Teton National Park, sometimes folks don't think about seeing much else when they go to Wyoming.
Boy are they missing out. That's especially true in the winter when Wyoming turns into one of the biggest snow playgrounds anywhere in the snowbelt.
First off, you've got the West's largest single trail system, the Continental Divide Snowmobile Trail, which stretches from Lander to Grand Teton National Park and encompasses more than 600 miles of groomed trails.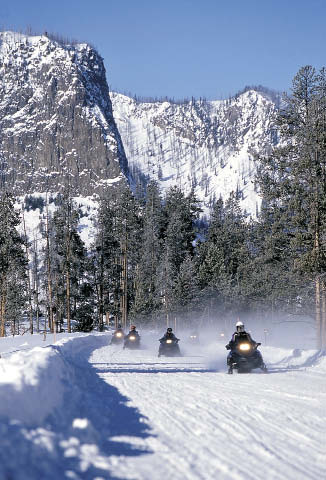 Then you've got the Snowy Range—which didn't get named by accident—in the southeast corner of the state. And then there's the Togwotee area, one of the most popular (because it has some of the best riding) snowmobiling areas in the West. The Alpine area is no slouch, either. Nor are the Big Horns in northcentral Wyoming.
So you see that there are plenty of big name snowmobiling locales to go along with the state's famous national parks, which are just icing on the snow-covered cake because it's legal to ride there too.
Wyoming has a pretty good thing going when it comes to snowmobiling.
Wyoming is the complete package when it comes to sledding. More than 2,000 miles of groomed trails, some of the best hillclimbing anywhere to be found, plenty of snow, excellent boondocking in all kinds of terrain from the very easy to as tough as you can handle—it's all there.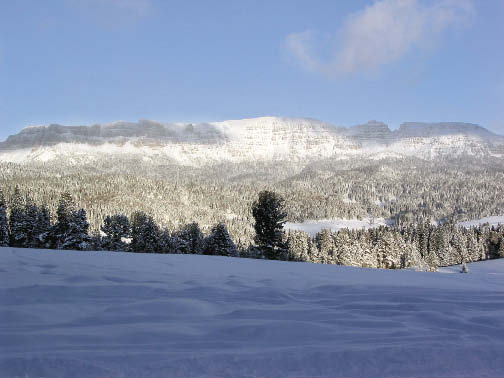 For as many big name snowmobile riding areas as there are in Wyoming, there are dozens more off the beaten path that will appeal to snowmobilers of all riding abilities. These areas are usually less crowded than the more popular spots, but just know that even in the big name places, there is plenty of room to roam, explore, backcountry boondock and hillclimb.
Wyoming is just behind Colorado (No. 1) when it comes to states with the highest mean elevation in the United States. And elevation is what riding in the West is all about, so you can be sure you won't be disappointed when it comes to snowmobiling in Wyoming.
For more information, check out www.gosledwyoming.com.
Guide
Wyoming Travel Commission—www.wyomingtourism.org
Road Conditions—888-996-7623
Wyoming Snowmobile Association—
www.snowmobilewyoming.org
Groomed Trails—2,300
Number of Registered Snowmobiles—19,060
Highest Point—Gannett Peak (13,804 ft)
Greatest Average Annual Snowfall—Snake River 270.1 in.
Record Winter Snowfall—Bechler River 491.6 in.
Coldest Recorded Temperature—Riverside Ranger Station -66°F
Western Canada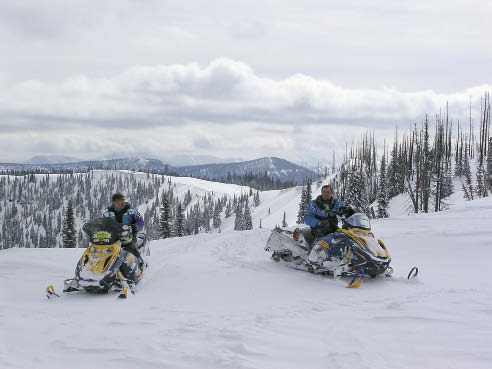 We have snowmobiled all over the western United States as well as western Canada and we're confident in saying that western Canada—specifically Alberta and British Columbia—is the standard that all other snowmobiling areas should be compared to.
Unless you've experienced sledding in western Canada you might not understand just how good it is and how we can make such a claim. Snowmobiling in Canada is that good. No, it's that great. There are a number of reasons we feel that way. One is, if the western U.S. gets a lot of snow, then there are places in western Canada that get an insane amount of snow. Another: who hasn't heard of Revelstoke? The Canadian Rockies are unparalleled in ruggedness and beauty. There is mountain range and mountain range in British Columbia. The glacier riding is spectacular.
The list goes on and on.
Great snowmobiling is not limited to just Revelstoke. There are other well-known popular spots such as Sicamous, Crowsnest Pass, Golden, Fernie, Squamish, the Pemberton Ice Fields. These are all legendary spots.
Most riding areas are easily accessed, regardless of what side of the border you're on. We've focused on the two western Canadian provinces of Alberta and British Columbia because, well, that's where the best riding is.
Alberta, we admit, is a whole lot of prairie and rolling terrain—that is, until you get to the western fringe of the province where the Canadian Rockies rise mightily from the flat lands. Alberta's portion of the Canadian Rockies offers some astounding mountain riding with Crowsnest Pass by far the most popular mountain riding area in the southern part of the province.
Ironically, Crownest Pass also is home to the province's largest and most extensive snowmobile trail system, which is saying something since much of the rest of Alberta is nothing but trails. Riding begins at about 4,000 feet and goes up from there—to between 7,500 and 8,000 feet. Snows are deepest in the bowls that dot the Canadian Rockies on both sides of the Alberta/British Columbia border. Crowsnest Pass is about 50 miles (as the bird flies) north of the Canada/U.S. border, basically due north of Kalispell, MT, and Glacier National Park. Access from the British Columbia side is through Fernie and Sparwood and through Lethbridge or even Cardston on the Alberta side.
Between 200-225 inches of snow fall on the Crowsnest Pass area during the winter months. Full services are located in Bellevue, Blairmore and Coleman with the nearest airport in Calgary (150 miles) or Lethbridge (89 miles). A smaller airport is located in Cranbrook, BC, about a 100-mile drive from Crowsnest Pass. For more information, contact the Crowsnest Pass Chamber of Commerce (888) 562-7108.
There are other mountain areas worth exploring, especially between Crowsnest Pass and Banff National Park in Kananaskis Country. Popular riding areas include McLean Creek, Cataract Creek and Sibbald Flats. For more information on riding in Kananaskis Country, log on to http://tprc.alberta.ca/parks/kananaskis/flashindex.asp. This area is basically due west of Calgary and south of the Trans Canada Highway, just before it heads into Banff.
British Columbia is the place you want to go if you're into mountain riding. This province is perhaps the best place in North America for the steep and deep. BC has the terrain, it has the snow and it has lots of places for both to be explored. There are few places you can't ride a snowmobile in British Columbia so the possibilities are indeed unlimited.
There are places in British Columbia that receive anywhere from 26-59 feet of snow. As the storms come off the Pacific Ocean and move from west to east, the snow gets drier and fluffier, resulting in the champagne powder you always hear about in Sicamous or Revelstoke or Golden or Valemount. And with the kinds of dumps the province gets, some diehard sledders can ride just about year-round.
The mountains are rugged and provide some of the best hillclimbing you'll find anywhere. Of course, there are plenty of places riders of any kind of skill level can enjoy. The variety of riding places is what helps set British Columbia apart. There are mountains, meadows and bowls as well as trails, forest roads and ridgelines to ride. Here's another little bonus to riding in BC: you ride and see the ocean.
Then there's the glacier riding. The Pemberton Ice Fields might be the most popular spot to ride glaciers, but even those who continually ride there are continually amazed at the beauty and the endless snow.
There are dozens of riding areas in BC, covering nearly every corner of the province and each offering its own uniqueness. There is some information about just a handful of these areas below, but it is by no means a comprehensive list. How much you can explore depends on how much time you've got. You very well might be able to ride for years and never see the same place twice. Another great attraction of BC sledding is abundance of riding spots close to the major metropolitan areas. For example, some of the best riding in British Columbia is less than an hour from Vancouver. The same goes for some of BC's other bigger cities such as Kelowna and Kamloops—riding is just about right around the corner.
British Columbia's terrain is magnificent and the scenery just can't be described. You really do have to see it to believe it. Once you do, you'll compare everything else to it.
Alberta Guide
Travel Alberta—www.travelalberta.com
Road Conditions—www.ama.ab.ca
Alberta Snowmobile Association—www.altasnowmobile.ab.ca
Groomed Trails—3,100 miles
Number of Registered Snowmobiles—28,173
Highest Point—Mount Columbia (12,293 feet)
B.C. GUIDE
Tourism British Columbia—www.hellobc.com
Road Conditions—www.drivebc.ca
British Columbia Snowmobile Federation—www.bcsf.org
Groomed Trails—7,456 miles
Number of Registered Snowmobiles—75,000
Highest Point—Fairweather Mountain (15,298 ft)