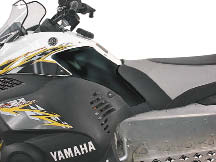 New for 2008 is the TrailTank model which fits 2008 to present Yamaha FX Nytro MTX, RTX and XTX models. This tank was released late last season and should prove to be a popular option for those Nytro riders looking to significantly increase the sled's range.
This model holds about 10.4 U.S. gallons, nearly three full gallons more than the stock tank. It uses the OEM cap and comes with all necessary mounting hardware, new O-rings for the fuel pump/gauge sending unit and installation instructions.
It comes in black or clear, which allows you to know constantly how much fuel remains in the tank. The TrailTank surface is designed to replace the two OEM side panels that normally cover the tank sides. This tank is a bolt-in replacement which fits in the stock position with minimal modifications.
The Nytro TrailTank will work with most rear-mount turbo systems.
Contact Creation Composites (503) 318-3139 or www.trailtank.net