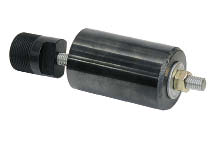 If you have ever tried to remove the helix from your Rev XP secondary, you will immediately see the benefit of this new tool from the clutching experts at Power Quest. Because the jackshaft and the fixed sheave are one piece, the factory recommends taking apart the chaincase in order to do this job.
This time-saving tool compresses the secondary spring. The user can then unscrew the Torx screws from the back of the clutch to remove the helix without the pressure of the spring. The helix can then be removed without disturbing the jackshaft or chaincase. When reassembling, Power Quest uses grade 8 hex head bolts in place of the hard-to-remove Torx.
Contact Power Quest (208) 542-0189 or www.pqperformance.com.