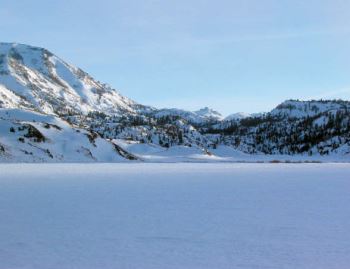 Snowmobiling in California is done in pockets of rugged backcountry terrain scattered all up and down the state. There are very few huge, extensive trail systems like you might find in Wyoming or Montana or Idaho.
These pockets are usually fairly well-defined, many of them by natural boundaries, such as ridgelines, mountains, highways, national parks and water; other pockets are defined by boundaries snowmobilers are not particularly fond of, like Wilderness areas.
Sonora Pass is one of those well-defined snowmobiling areas, hemmed in by Wilderness areas to the north and south, Highway 395 to the east and development and increasing population to the west.
Look at this riding area on a map of California and you'll quickly see that indeed, it is a pocket.
Sonora Pass may be a pocket but we prefer to think of it as a "pocket of paradise" when it comes to snowmobiling.
To some, that hemmed-in feeling is claustrophobic and discouraging. No doubt it's a challenge to know where you can and can't ride, but after spending a couple of days in the snow-draped Sierra Nevada Mountains here, we say the challenge is nothing sledders can't overcome and definitely worth the effort.
Lots Of Territory
While a pocket generally gives the impression of small and confining, we rarely covered our same tracks over the course of two days. And we only stayed on the east side of Sonora Pass, never crossing to the west side, which opens up even more riding down toward Dardanelle and beyond.
Accessing Sonora Pass from the east side gives you the feeling that it's one of the more remote riding areas in California, far away from the big population centers of the state. That's one of its best features.
That and The Terrain
To get to the Sonora Pass riding area from the east, take U.S. Highway 395 from the north (Reno-Tahoe area) or south (southern California) to Highway 108 and head east. About five miles up Highway 108 from Sonora Junction, the state stops plowing the road and that's where you park. You'll pass the Marine Corps Mountain Warfare Training Center, which sits at the northeast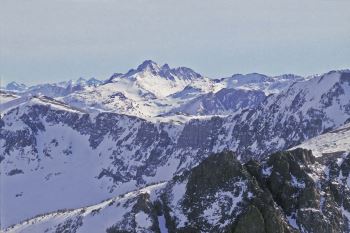 edge of Pickel Meadow. Parking is along Highway 108 on the other end of the meadow.
Unload and head up the ungroomed road (those looking for groomed trails need to access Sonora Pass from the west side) toward the rugged peaks and spectacular backcountry riding that off-trail sledders seek. It's a quick ride up (you start out at about 6,700 feet at Pickel Meadow) to where the big horsepower boys like to play—along the ridges and mountains that mark the boundary of the Emigrant Wilderness. It's barely nine miles from the parking area near Pickel Meadow to Sonora Pass (elevation 9,624 feet), which has the distinction of being the second highest highway pass in California.
Leavitt Creek Drainage
We peeled off the trail near where Leavitt Creek comes out of a drainage that is fed by several lakes, including the biggest, Leavitt Lake. We played on the hills and valleys before climbing over a ridge and dropping into Leavitt Lake. Actually, we stopped on the ridge to take in the view of Leavitt Lake, the surrounding mountains and ridgeline and rock outcroppings. It was stunning.
And loaded with snow. The snotel site (http://www.wcc.nrcs.usda.gov/snotel/snotel.pl?sitenum=574
&state=ca) read 123.6 inches on day one of our ride to Leavitt Lake (9,556 feet). On average, the area sees between 200-300 inches of snow each winter. The Sierra Nevadas are world famous for the way
that snow arrives, too. It's not light flurries but big dumps. The proof is in the snotel readings. For instance, on Jan. 6, 2008, the snotel marker on Sonora Pass read a snowfall of 31.9 inches. That was after 16.4 inches fell on Jan. 5. On Jan. 28, 19.1 inches fell. There were similar readings for the Leavitt Lake snotel marker, which is about 800 feet higher in elevation than the Sonora Pass marker.
You can test your mettle and metal on the bowls and sheer vertical climbs above the lake. When you're done there, you can head over to Koenig Lake and do it all over again. There is plenty of climbing here with lots of long pulls.
It's around 9,000 or so feet that you get above the treeline but even below that, the trees aren't so close that they're intimidating or impossible to play amongst. There was only one spot in the entire two days of riding the Sonora Pass area that we really had to work to turn in the trees. Nearly everywhere, the trees seem to be just about perfectly spaced for the ultimate in tree riding—when you're not playing on the hills or climbing.
Elevator Shaft
Up (literally) next was the appropriately named Elevator Shaft. This is a thrilling drop-off from a ridge down into the McKay Creek drainage. Take note that this drop-off was not named by the locals the "Escalator," as there is nothing gradual about it. Sitting at the top, the altimeter on the Ski-Doo Rev XP our guide Tom Dines was riding read 10,323 feet. At the bottom it read 9,528 feet—a drop of just about 800 feet. Doesn't sound intimidating but it's definitely one of those you've got to try it to know how it really feels.
The Elevator Shaft kind of marks the beginning of the Notches, another locally-named geographical stretch that crosses a couple of impressive ridges to the north, heading toward Sonora Pass, although
towards the end of the trek you have to go around to the trail to avoid the Pacific Crest Trail, which is illegal to cross on a snowmobile. Having to circumnavigate that stretch takes out a fun-looking chunk of real estate we would love to have tackled on a snowmobile. Some signs/markers at the top of the ridge mark where the PCT goes so be sure to avoid crossing it. Word has it that rangers frequent the area, waiting for sledders to break the law and ticket them.
No worries, though, we managed to hit another ridge full of chutes that offered its own challenges. We simply dropped back off the ridge where the markers were, headed east and down one of the chutes to play. We did pick up part of 108 to ride to the top of Sonora Pass for some scenic shots before heading back to the truck.
One spot we almost missed during our second day of riding the Sonora Pass area was Latopie Lake, which isn't exactly hidden but can be easily missed on your way to the Elevator Shaft. It's a series of short and medium length climbs up to Latopie Lake, which sits just below the ridgeline that marks the Wilderness border. It's not so much the destination as it is getting to Latopie that is so much fun.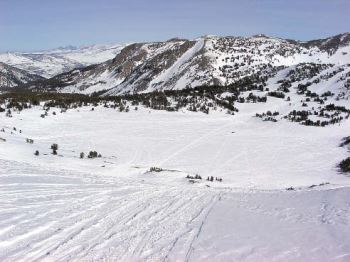 Taking stock at the end of day two left us with several impressions. One is there really is something to that California sunshine, which rained down on us for two full days, creating stellar riding conditions. Another is the famous Sierra Cement, a name for the snow that is set up just about the time it falls from the sky. Sierra Cement creates a snow condition (base) where you can ride just about anywhere—not matter how vertical it is—which we tried to do. The Elevator Shaft was a perfect example of what Sierra Cement allows you to do. Any other kind of snow condition and you would not be able to climb back out (although you can drop out the bottom of McKay Creek and catch the trail but how much fun is that?). Another impression is that despite being "hemmed" in, we had two full days of great riding without having to backtrack much at all.
A true pocket of paradise.