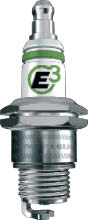 Due to the high demand from E3's many tried and true automotive and small engine plug customers, E3 Spark Plugs has introduced its new line of powersport plugs. With more than 85 percent coverage for motorcycles and snowmobiles, E3 now offers a simple and easy way to improve horsepower and fuel economy.
Independent tests have proven that E3 plugs, when compared to competitive spark plug brands, increase horsepower up to 12 hp, depending on engine class. Also, it is the only plug on the market that reduces hydrocarbon and carbon monoxide emissions.
The E3 DiamondFIRE spark plug design features an open, diamond-shaped electrode that offers fuller flame growth and more complete fuel combustion, thus providing reduced emissions, increased horsepower and better engine durability.
Contact E3 Spark Plugs www.e3sparkplugs.com.