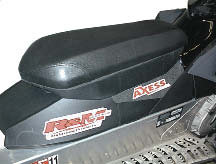 R&M Lightning Products has developed a new Axess Seat for the Ski-Doo XP chassis.
XP Axess seats are two inches taller than factory and have a narrow design that improves the sit-to-stand transition.
The seats have a removable cushion top for complete access to a storage compartment that extends the entire length of the seat.
Installation requires no tools, no sawing, no drilling and no cutting. Just slide the factory seat off and slide the new Axess Seat on—no problem.
Contact R&M Lightning Products (801) 467-2442 or www.rmproducts.info.