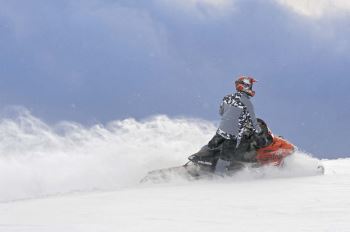 We briefly mentioned the new Polaris Assault RMK in the "800 Questions" and explained why we weren't going to cover that new model in that story.
We had no intent of ignoring the Assault and, in fact, we'd be crazy to do that. The Assault is, afterall, one of, if not the, hottest new sleds for 2009.
No, it's just we didn't think it quite fit in the 800 mountain sled story. It is an RMK, but Polaris seems hesitant to say it's a true mountain sled. Is it a

mountain sled? Well, the Assault will be more at home in the mountains than on a trail. It's a true backcountry, freeride snowmobile, one of the first, if not the first, purpose-built machine aimed at the freeride crowd.
If Polaris is hesitant to call it a true mountain sled, we're equally as hesitant to say the Assault is a true "backcountry" machine, simply because we think all mountain sleds, regardless of the brand, are destined for the backcountry.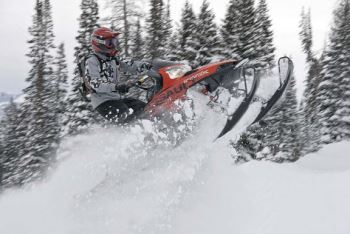 It's when you add the freeride label to the Assault that its true character shines through.
The Assault is capable of riding into the backcountry through powder, uphill climbs, a little boondocking and some single track trail riding. But when you break out into a playground full of cornices, rolling lifters, huge jumps, etc., the Assault breaks away from the crowd. It is to terrain freeriding what the Dragon RMK is to five feet of powder.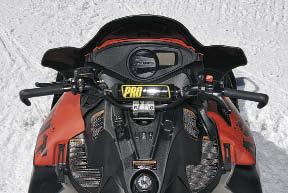 What makes the Assault that much different from the sleds it looks so strikingly similar to? There are four main differences. First, the track is designed for solid traction in the worst of conditions, where the standard RMK track is better suited to working with deep snow. The aggressive lugs stand 2.125 inches tall on the 15x146-inch Competition track.
Second, slide rail braces and tunnel protection strips give you a hint to the kind of abuse Polaris expects this sled to hold up to. Third, the wider 43-inch front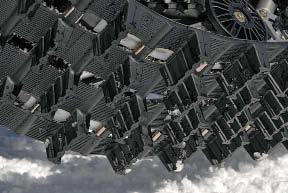 end is less about wandering through tight trees and more about keeping things steady on big landings. The fourth and most significant aspect that separates the Assault from the standard RMK is the race-level Walker Evans shocks. These shocks make all of the difference in the world when it comes to bump absorption. It's like flying down a washed out desert dirt road in a Ford F150 compared to Robby Gordon's off-road trophy truck.
The freeride crowd has been clamoring for a more specific purpose-built backcountry sled and now they have it in the Assault.