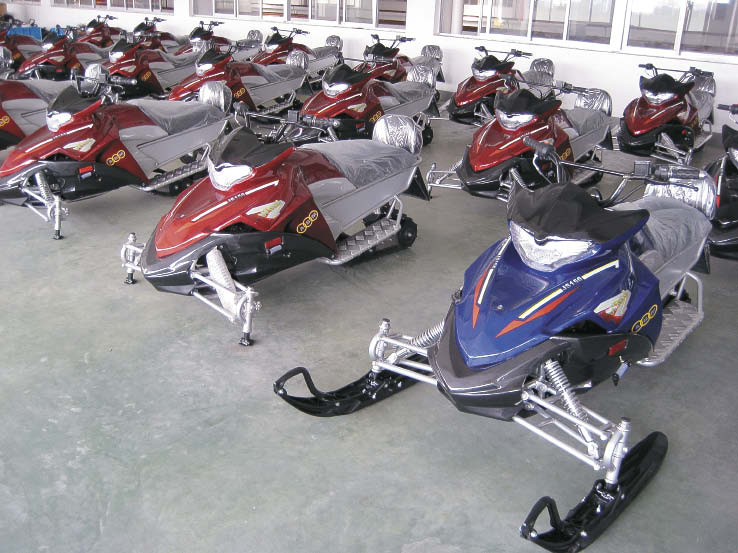 The question is, if sales were in negative territory a year ago but were flat this year, is that good news?
We think so.
The downward trend of snowmobile sales in the United States at least leveled off for 2008. And that's good news for the snowmobile industry, which has seen U.S. sales drop seven consecutive years (including the 2008 buying season) and 10 out of the last 11 years.
The West's upward movement in snowmobile sales was short-lived, as in the 2007 season, which was up 12 percent compared to a year before. For 2008 sales once again slipped, this time by 3.5 percent or about a thousand units. Western Canada was a very bright spot for the industry with sales up 18.5 percent.
And looking at the bigger picture of worldwide sales, that number, too, is on the positive side.
Anyone who paid attention last winter knows the good snow conditions the North American snowbelt enjoyed, just about from coast to coast. That was generally good news for the industry and especially for the snowmobile manufacturers.
Sure, everyone in the industry would like to have seen even better numbers in the sales department, but overall, the feeling is one of relief that there wasn't a bigger slide.
Now, if we can just get two good snow seasons back to back, that would even be better news.
Here are the latest snowmobile sales figures for 2008 in the exclusive SnoWest Magazine annual snowmobile sales report.
Western United States
We're just about as puzzled about this year's snowmobile sales figures for the western United States as we were about last year's.
Last winter was phenomenal all across the West in terms of snowfall, yet sled sales slipped almost 1,000 units or 3.5 percent. That's the biggest drop in units in the past three years. Compare that to 2007 when snow conditions were generally dismal but sales were up 12 percent. Of course, some of those sales are directly related to new product (read: awesome new snowmobiles) and 2007 was a big year, but there was a lot of excitement about a couple of 2008 models going into last season. Hence, the puzzling sales figures.
We also track what percentage western snowmobile sales represent of the overall sales in the United States. This year that number stands at 32.4 percent, which is down 1.1 percent from a year ago. Still, that's pretty high considering traditionally it has been in the low to mid 20s since we started keeping track a dozen years ago. Once again, that figure demonstrates just how important the West is to the overall snowmobile industry in the United States.
The reason it's noteworthy about U.S. sales is because America is the biggest market for the snowmobile industry, although Canada is making some significant gains.
Yes, sales dropped in 2008, but that dip of 263 in snowmobile units sold is the smallest decline in years. Putting that number of 263 in perspective, whenever there has been a decline in snowmobile sales in the past 18 years, it has never been that small. In fact, the closest it's been was in 1991 when sled sales slipped 2,000 units. In other years, the numbers have been even more significant, including 2007 when sales tanked by 11,855 units. That's why we say this year's flatline was more of a positive than a negative. Maybe for 2009 we'll see a number on the up side, which hasn't happened very often—in fact, only twice in the past 11 years.
Here's another number that caught our attention in terms of U.S. sales. For the past several consecutive years, the average cost of a snowmobile has increased steadily, including in 2007 when the average price went up a whopping $508 per unit. In 2008, the average price of a machine dropped almost as dramatically to $7,947.65 or $639.35 less than what a snowmobile cost in 2007. Good news for the consumer, but not necessarily for a snowmobile manufacturer, unless, of course, it can make sales up in volume.
Western Canada/Canada
Well, if we're somewhat happy about flatline sales in the United States, then Canada is downright giddy, especially in the western part of the country where sales were up a whopping 18.5 percent. That's two positive sales years in a row in western Canada and for the country as a whole. Canada checked in with an 11 percent increase in 2008.
It's those numbers that helped push overall worldwide sales into positive territory.
No doubt the strong economy, fueled by the energy sector, in western Canada has a lot to do with those sales. The 17,354 units sold in western Canada for 2008 were the most units sold since the 1999 sales year.
Not only has the number of units sold increased in Canada, but so has the price per unit, which now averages $10,700.37. That's an increase of an incredible $1,864.37 per unit.
There's really no reason to think that the upward trend in snowmobile sales will reverse, especially in light of the current energy situation across the world.
Back to western Canada for a minute. Another indication of how strong sales are in the western provinces and territories is the fact that the percentage of the market owned by western Canada increased 2.12 percent from 2007 and now stands at 34.2 percent, a little better than the share the western states own of the U.S. market. People like those mountain sleds.
Worldwide
As mentioned, Canada was a bright spot in worldwide sales, as was Russia for 2008. However, poor snowfall in Finland (for two years in a row now) prevented sales in Europe from gaining appreciably, which caused a drag on worldwide sales. In fact, sales in Europe/Russia were down just about 4 percent in 2008 after five consecutive years of gains.
European sales consist mostly of the Scandinavian countries of Finland and Sweden, although Ed Klim, president of the International Snowmobile Manufacturers Association, said snowmobile use and sales in Norway is growing. He added, "Poland is growing, too. There are huge sales in used sleds from Canada."
Worldwide, though, there were 163,753 snowmobiles sold in 2008, up 2.14 percent compared to 2007.
The United States still represents the lion's share of snowmobile sales in the world, accounting for 48.58 percent in 2008. Canada is second at 30.87 percent, followed by Europe/Russia at 20.54. Russia makes up about 30 percent of the European/Russia market.