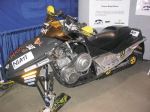 There are lots of reasons for snowmobilers to check out this year's Idaho Snowmobile Show, but the one that is perhaps head and shoulders above the rest is the chance—once again—to win a snowmobile.
This year, show attendees have the chance to win a 2009 Arctic Cat M8 with a 153-inch track. To be eligible to win the snowmobile you have to do two things. First, pay to get into the snow show and second, sign up for the giveaway once you get inside the doors. That's pretty simple. One entry per paid person.
The 6th annual Idaho Snowmobile Show, sponsored by SnoWest Magazine with the help of the Idaho State Snowmobile Association, is scheduled for Sept. 26-27 at Expo Idaho in Garden City, a suburb of Boise. Show hours are 3-9 p.m. on Friday, Sept. 26 and 9 a.m.-6 p.m. on Saturday, Sept. 27.
Of course, there are several more good reasons to show up to the snow show. You'll get to see the 2009 model snowmobiles, along with some mint vintage sleds, tons of snowmobile clothing and accessories, snowmobile trailers, excellent sledding vacation spots and just about any kind of snowmobile aftermarket product you can think of to mod your machine.
Speaking of modding your machine, the Western Power Sports Mod Show is back once again. WPS is teaming up with Ultimax High Performance Belts and Fly Racing to sponsor the Mod Show, which features $2,500 of prizes to the winners. Anyone can enter their mod sled and the winners are announced at the end of the snow show. Show attendees are asked to vote for their favorite mod sled with prizes going to the top three winners. Along with the people's choice awards, we also ask a panel of industry experts for its top favorites out of the mod sleds at the show. Winners of the Most Magnificent Mod contest also get their sled featured in an upcoming issue of SledHeads Magazine. Go to www.snowest.com for more details on how to enter the WPS/Ultimax Belts Mod Show as well as see a list of previous years' winners.
Then, new for this year is the SnoWest.com Swap Meet, which will take place at the Idaho Snowmobile Expo. The Cougar Mtn. Snowmobile Club will be helping with the swap meet. If you've got something you want to sell or you're looking to buy, this is your chance. You know what they say, "One man's junk is another man's treasure." Find out how true that is at the snow show.
There is a $1 off coupon on www.snowest.com that you can use for the Idaho Snowmobile Show. You can print off one for each person in your group.
Here is a sample of who will be showing us their goods at this year's snow show. For a complete list, log onto www.snowest.com, navigate to the snowmobile show section and click on exhibitors.
Live to ride. Be prepared while mountain riding this winter with avalanche safety products from Backcountry Access (BCA): easy-to-use Tracker avalanche beacons and BCA shovels, probes and packs. Info: (303) 417-1345 or www.backcountryaccess.com.
Craiggerbuilt Want to carry extra fuel for the day or need more storage space? Come see Craiggerbuilt at the Idaho Snowmobile Show to get your new Quick Release G2/Gas Can Thingy, Cab-B/Bag Thingy or the IPEX/Bag Thingy. Info: www.craiggerbuilt.com.
Explore beautiful Elko, NV, with Altitude. Elko County is a land of adventure capable of stretching the limits of your experience with hundreds of miles of wide open spaces and the best snowmobiling in the state of Nevada. From the raw majesty of the Ruby Mountains to Merritt Mountain/Sunflower flats you'll enjoy unforgettable snowmobiling that will take you to the edge. Elko Convention & Visitors Authority (775) 738-4091 or www.ExploreElko.com.
Amsoil Interceptor oil is the official oil of ISOC. Gene Fine Amsoil will have a good supply of Amsoil Interceptor oil, Dominator Racing oil, HP Injector oil and other Amsoil products. Info: (541) 534-4895 or www.pao-oils.com.
High Mark Recreation will have Polaris EFI turbos on display and for sale at the Idaho Snowmobile Show. This Boise Polaris dealer specializes in all things high performance. Info: (208) 343-2830 or www.highmarkrec.com.
HiPerformance, makers of the Aerocharger, the world's most advanced turbo. Featuring the Polaris Dragon 800 tuned by Shane "The Flying Hawaiian" Hart and Ogden Valley Sport's Arctic Cat M8/M1000. Info: (913)541-0200 or visit www.hiperturbo.com
Liberty Mutual Insurance has a complete range of coverage for all your auto, home and snowmobile insurance needs. For your free comparison, call in Boise at (208) 323-7755.
McNamar Racing Come by and talk to your thermal management experts at McNamar Racing. Let us explain the benefits of controlling heat while making your sled look and perform better. Info: (208) 587-5541.
Mountain Village Resort is located in the heart of Idaho in the Sawtooth Valley. The property consists of a restaurant and lounge, mercantile with state liquor store, service station/convenience store and motel with natural hot springs. Info: (800) 843-5475 or www.mountainvillage.com.
R&M Lightning Products is the source for lightweight snowmobile performance enhancing products and is the maker of the Lightweight Stealth Mesh Hoods, R&M Heat Elimination Vent Panels and weight-saving Axess seats with storage. Info: (801) 467-2442 or www.rmproducts.info.
RSI manufactures the best snowmobile handlebar systems in the world. Its lineup of products consists of risers, handlebars, cables, grips, heaters and snow/ice scratchers. RSI has what you want. Info: www.rsiracing.com.
Ski-Doo Check out the Ski-Doo Summit Hillclimb Limited Edition powered by the new, incredibly clean-burning E-TEC engine. With industry-leading fuel economy and virtually no smoke and smell, it'll change everything you thought you knew about 2-stroke engines. Info: www.ski-doo.com.